BOSTON – A cranky Light Reading editor recently went on the road to tour the tech community up here (where he once toiled at Stratus Computer as a high school intern), braving the tangled traffic jams of I-495 and I-95 to get a bead on the latest developments in the Massachusetts tech community.

It wasn't easy. For one, Boston traffic fully deserves its longstanding, horrid reputation. As if it weren't painful enough having endured the economic slowdown – does the traffic have to slow down, too? But if traffic is an economic indicator, things are starting to look up in Massachusetts.

We were in town to find folks who are doing stuff. The problem is, lots of people are laying low. Too low.

Sycamore Networks Inc. (Nasdaq: SCMR), for one, declined to meet. They cited the week before July 4 as bad timing. What were they doing, loading up an empty optical switch chassis with bottle rockets?

Fortunately, Avici Systems Inc. (Nasdaq: AVCI; Frankfurt: BVC7) let us in the door. Indeed, there was stuff happening there. In fact, there seemed to be a top-tier customer in the office (AT&T Corp.): We passed by a conference room filled with men in dark suits helping themselves to a lavish buffet of caviar and champagne (or, perhaps, sandwiches and soda – we were walking fast). We were quickly escorted to the back of the building to a banquet more appropriate to a journalist… burritos at the employee café.

The timing was fortuitous, as Cisco Systems Inc. (Nasdaq: CSCO) had entered the Guinness Book of Records for the largest router that had never been built (see Cisco Grabs a Guinness).

"We are the only proven multi-chassis terabit router," said Avici's senior product marketing manager, Hudson Gilmer. "There is no substance to this whatsoever," he said of Cisco's Guinness announcement, which related to its new CRS-1 core router (see Cisco Launches HFR)

Esmeralda Schwartz, Avici's director of marketing, said the company's recent activity has focused on its partnership with Nortel Networks Ltd. (NYSE/Toronto: NT), yielding cooperation on products in the VOIP and softswitching markets. Avici recently demonstrated interoperability with Nortel's Succession and Preside platforms, she said.

Schwartz noted that RFP activity is progressing at a slow but steady pace and that this should result in more spending in 2005. "I think the purse strings will really open up in 2005," said Schwartz. "Carriers are starting to push the envelope in capacity."

At the HQ, Avici runs an impressive demo of live traffic running over a multi-chassis system made up of four TSR routers, with a total capacity of 1.6 terabits, full-duplex. But what really impressed us was Avici CEO Steve Kaufman's willingness to burrow into the four-router chassis, under a rat's nest of high-voltage wiring, just for a photo.
So what else is going on in The Land of Bean? The startup market still appears to be in the sweet lowdowns, but it's starting to pick up. Many an office park is still empty. Rent has dropped as low as $12 a square foot in some office parks, sources say. VCs are still flush with the billions they raised during the pig-trough era, but they're only now getting around to dispersing some of the funds.

Then there are the McMansions. Like some bad living memorial to the hubris of the bubble era, they seem to be everywhere. Note this Haiku from a local coffee shop:


Your Tasteless Mansions
Go Up On Every Street
Dot Com Fiascos

Speaking of dotcom era windfalls, Mukesh Chatter, CEO of core router startup Axiowave Networks Inc., took us on a tour of his headquarters, fresh off the launch of the XCR 128 and now 150 employees strong (see Axiowave Queues in the Core). Chatter, who apparently graduated from the Dan Smith School of Office Furniture Economics, took great pains to tell us how he was saving money through the virtues of the $5 office chair, which he said are plentiful at local office-supply auctions.

Chatter showed us more big routers, including the Nexabit – er, we mean Axiowave – gear working with some Juniper Networks Inc. (Nasdaq: JNPR) and Cisco boxes. The lights were blinking, so it must be working, right? Folks were testing stuff, too.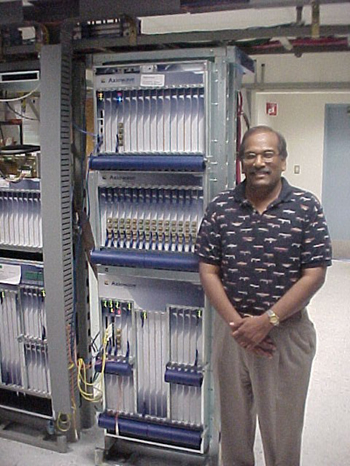 But more impressive than Axiowave's flow-based routing architecture was the firepower of the local kitchen. According to our patented Light Reading Startup Kitchen Indicator Assessment Methodology, we noted some of the more important metrics. Coffee: Passable, but needs improvement. Snacks: Lacking. Tea: Plentiful. Microwaves? Holy Cow! Microwaves in triplex. Is Axiowave working on the next multi-chassis microwave architecture?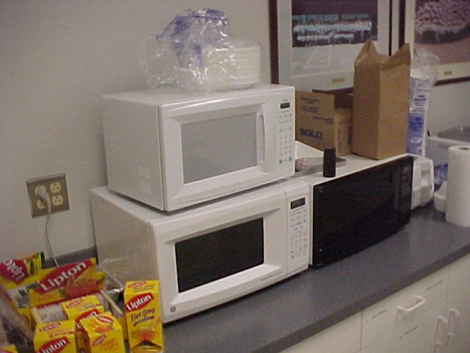 As Chatter pointed out, $12-a-square-foot office space and $5 chairs have yielded the cliché of the startup community: "It's a great time to start companies."

Yeah, right, but where can you find funding?

To answer this question, we were off to the land of plush lobbies, striped shirts, and golf to find out what some VCs thought. We weren't offered a tee time, unfortunately. But Michael Gaiss, VP of marketing at Highland Capital Partners, offered us some strawberries and ice cream. For the record, the folks that work in VC offices seem way too happy. Note to limited partners: Better check on those management fees.

Sean Dalton, a partner at Highland, claims he's ready to go hog wild. He believes things are really starting to heat up in the startup world.

"There's been a torrent of new opportunity," he says. He believes that both the number and quality of business plans arriving on his desk has picked up noticeably in the last few months, after several years of decline. He attributes this to the fact that the best entrepreneurs have had time during the downturn to refine and perfect their ideas.

"In just the last past month, we've seen a steady pickup in quality, and the volume is approaching the levels of 1998/1999," says Dalton.

Volume approaching the levels of 1999? Is that reassuring?

Hunting for more startup activity in the Boston area, we paid a visit to the The Photonics Center at Boston University, an impressive 10-floor, $90 million facility that includes four advanced photonics and materials laboratories and incubator space for numerous startups. The Center has funded and supported 17 new startups since opening in 1998, and has raised $200 million for those companies.

Cliff Robinson, assistant director with the Photonics Center, says it's still "just getting started" as he has been working to fill up the facility. Right now, numerous working companies are developing products there. The idea is that venture capitalists and entrepreneurs can use the Center to get access to expensive laboratory equipment that would otherwise be very expensive for a startup's budget. The Center, which is funded by B.U., takes a cut of the equity in the company, or collects rent – or both.

How tough have things been in the technology startup market during the past four years? So bad that apparently the new metric is the lack of failure, rather than the size of success.

"We've started 17 companies and only two have gone out of business," says Robinson. Congratulations on your minimal failure!

Seriously, Robinson believes the startup market is just beginning to regain its legs, and things are picking up. The large amount of venture money out there is still providing plenty of competition. "There's too much money chasing too few deals."

Robinson's got the creds: Originally trained in the natural sciences he received degrees in applied physics (BSc) and material science (MPhil) from Sussex University and physics (PhD) from Cambridge University (Churchill College) in England. He also has an MBA from Boston University and decades of research experience at places like IBM Corp. (NYSE: IBM), Fairchild Semiconductor International (Nasdaq: FCS), and Cabot Corp. (NYSE: CBT). He's got some interesting views on light and photonics in general. For instance, he thinks there's a big future in LEDs for new lighting and display applications: "They're more efficient than light bulbs, which is an archaic technology. The LED is to the lightbulb as the transistor was to vacuum tubes. It's so much more efficient that it's like discovering oil."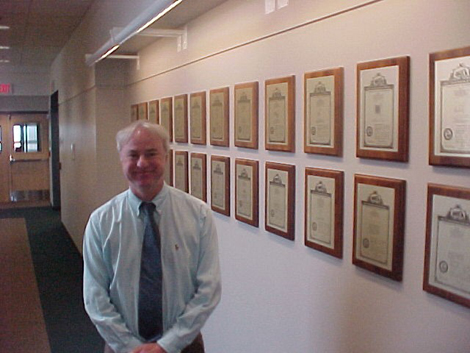 Robinson follows many of the activities with new photonic materials technology at the Center's labs, and he says progress is being made with light-emitting polymers. "You don't need the expensive crystal substrate in many cases."

Okay, we'll buy that. The only problem is, we report for a telecom publication, and we were in search of telecom technology, of which there isn't much at the Photonics Center. The Center has had a couple of telecom deals, but not much going on right now. FiberGrade, which developed new test and measurement devices, was recently sold to PIXT Ltd. (see PXIT Acquires FiberGrade). Specialty optical fiber company Verrillon Inc. is still growing, according to Robinson: It's even made an acquisition and has since "graduated" from the Center, getting its own space (see Verrillon Gets Active in Passives).

But for the moment, the Center appears to be have more deals for photonic applications in fields such as life sciences, security, and displays. Robinson, though, fully believes that optics will continue to influence the future of telecom.

"It will come back," says he, speaking of the market for emerging optical technology in telecom.

Hopeful words indeed. And judging from our visits with a number of Boston-area networkers, it is coming back. Slowly – but surely.

— R. Scott Raynovich, US Editor, Light Reading