ORLANDO, Fla. -- Light Reading Live! -- You think you've lived through a bubble? You ain't seen nothing.

That was the message delivered by keynote speaker Andrew Odlyzko to a crowd of service providers at the Light Reading Live! event held here Sunday, "Ethernet Services: A Carrier Class."

Odlyzko, who is director of the Digital Technology Center at the University of Minnesota and a former AT&T researcher, compared the modern telecommunications boom with economic surges in the postal networks and railroads of the 19th century.

For example, Oldlyzko described a railroad bubble in the U.K. in the 1840s. Put in today's dollars, that railroad bubble was roughly five times as big as the telecom bubble -- accounting for $500 billion worth of investment, compared to about $100 billion in the recent boom.

Yes, that railroad bubble eventually burst. But railroads also continued to grow for the next 50 years. In spite of the crash of the late 1840s, traffic and revenues both grew tenfold between 1850 and 1900.

Odlyzko pointed to a persistent historical pattern of boom-and-bust cycles after new technologies are introduced, observing that most industries go on to resume healthy growth after crashes. In fact, he noted, the telecommunications business is now positioned to be one the fastest growing segments of the economy.

"Telecommunications will continue to grow faster than the economy at large, maybe twice as fast," said Odlyzko. He believes that new technologies such as Ethernet, VOIP, and file-sharing will continue to prosper.

Odlyzko's prognosis is based on research into past booms in communications markets. He sees both pluses and minuses in today's situation.

First, the good news:


Today's broadband connections are growing at a faster rate than cell phones did in their early stages of growth.
Internet traffic has reached a steady state of growth, roughly doubling each year.
Telecom revenues have been growing steadily for the last 150 years and show increasing share of the GDP.
Previous telecom bubbles that share many similarities with that of the late 1990s have gone on to steady recovery after bursting.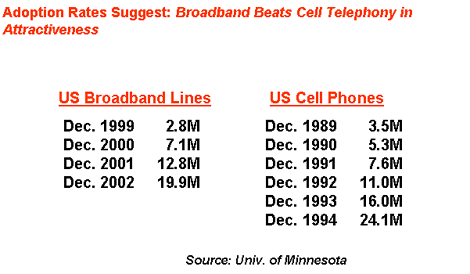 But Odlyzko clearly sees persistent problems in the industry. These include:


Productivity gains in telecom, when compared with booms of the 19th century, have not been as great as those derived from such technological innovations as the railroad.
Core long-haul capacity remains in a severe glut, which will likely linger for years. Long-haul technology is so robust, says Odlyzko, that the entire Internet can currently be transmitted on one 80-wavelength fiber.
Voice is where the money is, and even packetizing the voice will not use up core capacity. "If you packetized all the voice in the world it would still account for only 30 to 40 percent of all the traffic."
"In summary," said Odlyzko, "There is a healthy future for telecom in the long run, but there will be considerable turmoil in this decade."

A full complement of international carriers turned out to hear Odlyzko deliver his keynote at the LR Live! event, including AT&T Corp. (NYSE: T), Bell Canada (NYSE/Toronto: BCE), Progress Telecom, and Sprint Corp. (NYSE: FON), to name just a few.

Also on hand were members of the Ethernet in the First Mile Alliance (EFMA) and Metro Ethernet Forum (MEF), both of which are engaged in full-throttle efforts to solve a range of problems facing service providers -- and standardize those solutions. Representatives from sponsors Nortel Networks Corp. (NYSE/Toronto: NT) and Alcatel SA (NYSE: ALA; Paris: CGEP:PA) participated in several panel discussions.

— R. Scott Raynovich, US Editor, Light Reading