Ericsson AB (Nasdaq: ERICY) and Nokia Corp. (NYSE: NOK) look set to play the waiting game as rival equipment manufacturers make the move towards standardized Advanced Telecom Computing Architecture (AdvancedTCA) platforms, according to the latest edition of Unstrung Insider.

The report -- "ATCA for 3G Wireless Networks" -- claims that, although they see long-term value in ATCA, the Nordic giants are unlikely to adopt the emerging standard anytime soon. This leaves rivals Alcatel SA (NYSE: ALA; Paris: CGEP:PA), Huawei Technologies Co. Ltd., NEC Corp. (Nasdaq: NIPNY; Tokyo: 6701), and Siemens AG (NYSE: SI; Frankfurt: SIE) to drive early market adoption (see ATCA Finds More Friends and AdvancedTCA Makes Headway).

ATCA defines an open hardware architecture for building telecom gear under the PCI Industrial Computer Manufacturers Group (PICMG) 3.x set of specifications. The idea is that by using standardized hardware and platform software, network equipment vendors can gain time-to-market advantages and make more efficient use of R&D (see ATCA: 3G Cost Cutter and this AdvancedTCA Report for more details).

Report author Gabriel Brown notes that certain vendors plan a relatively fast migration to common, standards-based hardware platforms, assuming that the necessary boards and components materialize at attractive price points.

"NEC leads the market with its ACTA-based xGSN product, which has shipped over 100 units this year," says Brown (see NEC Scores With ATCA Core). "We expect at least two major vendors to ship ATCA-based core and edge network elements in 2005; look for news from Siemens, Alcatel, and Huawei."

However, for some large vendors, such as Ericsson and Nokia, the move to ATCA will be slower, since they do not see any cost savings in the short term and have reservations about the maturity of ATCA to support high-availability telecom applications.

"The largest vendors don't see any cost advantage to ATCA today," says Brown. "The real interest is in the long-term migration to open platforms across product lines.

"We see a good amount of activity in 2005/2006, but we see the market really moving to the mass deployment phase in 2007/2008."

The chart below summarizes Unstrung Insider's view of ATCA adoption.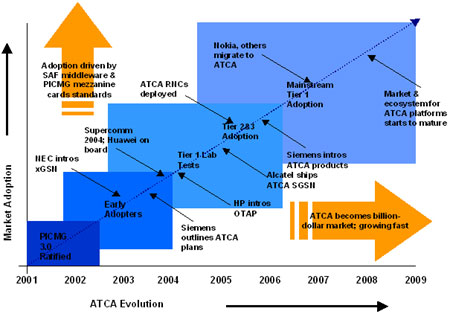 — Justin Springham, Senior Editor, Europe, Unstrung


---
ATCA for 3G Wireless Networks
is available as part of an annual subscription (12 monthly issues) to
Unstrung Insider
, priced at $1,350. Individual reports are available for $900.
---
Need to know more about the latest developments in AdvancedTCA? check out the coming

Light Reading Live!

conference:



AdvancedTCA – The Architecture of Tomorrow's Telecom Systems
at the Hyatt Regency in Burlingame, Calif., on Thursday, January 27, 2005



This one-day event, hosted by Simon Stanley, Heavy Reading Senior Analyst, will provide qualified attendees from Light Reading's global audience with original research into the ATCA components market, from its Heavy Reading market research division.


For more information, click here

To register, click here

Sponsorship opportunities are still available. Direct all inquiries to

[email protected]

.