The Bells are in for a gruesome two-year battle against steep pension costs and lower margin services that will ultimately mean smaller profits, according to a report published today by UBS Warburg LLC.

In an effort to work out whether the three leading regional Bell operating companies (RBOCs) -- BellSouth Corp. (NYSE: BLS), SBC Communications Inc. (NYSE: SBC), and Verizon Communications Inc. (NYSE: VZ) -- are growing less profitable, UBS Warburg tapped into recent data from the Federal Communications Commission (FCC)'s Automated Reporting Management Information System (ARMIS), a model the Commission uses to gather annual financial data from the RBOCs.

"It's another means of tracking the Bells' cost of operations beyond the one line in their quarterly results," says John Hodulik, wireline analyst at Warburg and author of the report.

Having studied the data, Hodulik believes the RBOCs will "grow less profitably" going forward for a couple of reasons: First, increased pension expenses are hurting the bottom line; and second, a shift from the high-margin revenues of monopoly-like services to lower-margin revenues, such as data and long-distance services won in competitive markets, are increasing pressure on margins.

Easily the biggest problem -- and it's going to get worse through 2005, according to Warburg -- is the margin drag from pension expenses. The firm estimates as much as 84 percent of the decline in margins in 2003 will come from pension-related costs.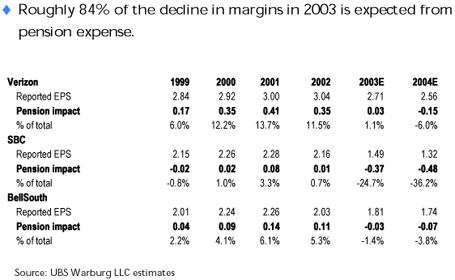 "They all have large retiree bases, and these people were at the companies for a long time, which is costing them... Plus the returns on pension funds have been lousy," says Hodulik. He adds that reducing staffing to cut costs will be a messy business. "Many of the recent job cuts have been voluntary departures, but as much as 60 percent of the headcount at the RBOCs is unionized." Hodulik is expecting plenty of strike action this summer to renegotiate contracts and avert layoffs.

Interestingly, based on ARMIS data, the Bells have nearly doubled their productivity levels over the last ten years. Verizon has the lowest number of employees per 10,000 access lines, at 20.4. This compares with 23.1 for BellSouth and 24.0 for SBC. As a point of reference, the European telcos run at roughly 32.7 employees per 10,000 access lines.

However, to stay in business, Hodulik notes they cannot continue to cut jobs as aggressively as they have heretofore. Verizon cut 38,500 jobs, or 25 percent of its workforce, in the last two years. SBC and BellSouth reduced their workforces by 13 percent over the same period, cutting more than 18,000 and 8,100 jobs, respectively (see Telecom Layoffs Tapering Off? ).

Aside from the pension-related costs, the Bells must also face up to new competitive services that have emerged that are eating into their local voice revenues.

Historically the Bells have enjoyed 45 to 50 percent EBITDA (Earnings Before Interest, Taxes, Depreciation, and Amortization) margins from traditional voice and data services. Warburg believes these high-margin services are a thing of the past as pressure to offer new services will shift the revenue mix. "The new services are cannibalizing the old," Hodulik says, citing DSL as an example of customers no longer needing to get a second line.

Upon completing the ARMIS data analysis, Warburg has lowered its outlook for Bell profitability for 2004 and beyond.

— Jo Maitland, Senior Editor, Boardwatch