Yes, somewhere in Startup Land people are feeling confident. Axiowave Networks Inc. has closed $45 million in a third round of funding, bringing its total raised to $96 million.

The Series C round was anticipated in reports on Light Reading as far back as May 2002 (see Axiowave on Track for More Funding), and CEO and founder Mukesh Chatter acknowledges the deal was done "some time ago." But he appears to want to start the year 2003 off with a bang, because he thinks Axiowave is close to announcing its first contract win.

"We just made the announcement... We wanted to get closer to actual customer traction," Chatter says. He says Axiowave has its product in several carrier labs and anticipates announcing a North American carrier customer win in the second quarter of this year.

Chatter says the only new investor is Argonaut Private Equity (no Web site), which co-led the round with former funder Gainesborough Investments. Other investors include Chatter himself, along with his Axiowave cofounder Ray Stata, and "other private investors."

In the past, Axiowave got funding from Madison Dearborn Partners and Soros Private Equity Partners, although these investors weren't listed in the latest group of backers.

While acknowledging this as a "down round," the CEO says, "We are lucky to have a round. We are very fortunate in our set of investors. They are true partners." [Ed. note: A down round means the company received an investment valuation lower than it received in a prior round, resulting in heavy dilution for previous investors.]

Chatter says mum's the word on what Axiowave's product actually is. Up to now, the most the startup's revealed about its wares is that they are optically based.

The news of such a large round in the depths of the telecom depression will likely have them chattering in the silicon hills of Massachusetts, where the serial entrepreneur is well known. His legend as a salesman grew when he consummated the deal to sell his previous startup, Nexabit Networks, to Lucent Technologies Inc. (NYSE: LU) for close to $1 billion in 1999 (see Lucent Loses Two Big Names and Lucent Cleans Up Core Routing ).

The most common descriptions of Chatter involve the three Cs: Cheerful, Charismatic, and Controversial: Cheerful, because the $45 million gives the bubbly CEO reason to smile; Charismatic, because he tells a good story. But skeptics emphasize Controversial, in reference to the growing disillusionment with the results of his last endeavor. Many Lucent insiders charged that the Nexabit product was not fully baked when Lucent purchased it, and Lucent has subsequently cancelled the product resulting from that deal (see Lucent Faces "Exodus of Nexabit Staff", Lucent Unveils Product Lineup, and Lucent Chops TMX 880). Was it Lucent's botched execution or Chatter's hype? It may now be a case for startup anthropologists.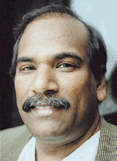 Looking forward, Axiowave's only said that its gear will enable carriers to unify disparate networks and services, avoiding the cost of maintaining the multiple IP-centric and circuit-switched networks many carriers have wound up with as a result of recent buildouts.

One specific has been nailed down, though: The Axiowave product won't be a long-haul DWDM box. In April 2002, Chatter confirmed the layoff of "under 30" employees as a result of discontinuing a project involving an ultra-dense optical crossconnect switch (see Stealthy Startup Leads With Layoffs). At the time, Chatter said Axiowave backed away from the long-haul market in light of the discontinuance of the Xros product line from Nortel Networks Corp. (NYSE/Toronto: NT).

Axiowave will add 25 employees "slowly and carefully" over the next year, says Chatter. This buildup will come in the areas of sales, sales support, and systems and software engineering. Right now, Chatter says Axiowave has an employee roster "in the high 140s."

International markets may be a focus. The company already has a sales office in Japan, and it is starting to look at opening up shop in Europe.

Of course, Axiowave must put its mouth where its money is now. Still, Chatter is confident enough in his company's "traction" with prospective customers to say he doesn't think Axiowave will need another major infusion of cash. If a small round is needed sometime in the future, he says, it's likely that existing investors and possibly new ones will pony up.

— Mary Jander, Senior Editor, and R. Scott Raynovich, US Editor, Light Reading