Boca Raton, Florida: Home to aged pensioners -- and a hot young startup called Axerra Networks Inc.

At the upcoming Supercomm 2001 tradeshow in Atlanta, Axerra Networks promises to display a switch that migrates so-called legacy services to an IP infrastructure -- while maintaining the reliability of traditional voice and data services.

And sources say that if Axerra can live up to its claims, it's almost guaranteed success. "If they can do this, the opportunity is huge," says Kathryn Korostoff, president of consultancy Sage Research. "But I haven't the slightest idea whether they can actually do what they say they can."

Axerra is well aware of the need to barrel ahead at full throttle to prove itself. Besides unveiling its product, for which it starts beta tests next week, the startup's working on partnership contracts with leading core router vendors, as well as a deal with pan-European distributors. And Axerra already has one OEM customer for a portion of its voice-over-IP (VOIP) technology. It's also applied for five patents.

Axerra's switch, snappily dubbed the AXN Multiservice over IP Access Concentrator, is based on ASICs and network processors from undisclosed vendors. Axerra says its box selectively grooms multiple individual DS0s (64 kbit/s), DS1s (1.544 Mbit/s), and DS3s (34 Mbit/s), which make up leased lines and voice services, into unified links to be fed via packet-over-Sonet OC3c (155 Mbit/s) or OC12c (622 Mbit/s) into a third-party core router. The box also converts frame relay and ATM to IP packets.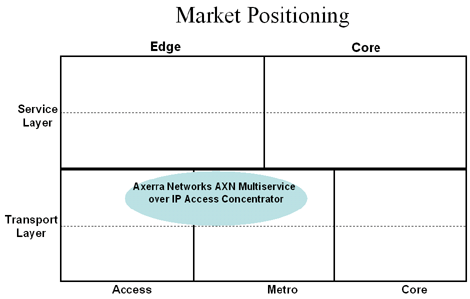 Axerra plans to introduce three units at Supercomm, two designed for central offices in Europe or the U.S. that are capable of terminating up to 4,032 T1s (an aggregate rate of 622 Mbit/s total) in a seven-foot rack with full redundancy; a smaller, "starter" product will fit on campuses or points of presence and will support 16 to 64 T1s (9.3 Mbit/s to 99 Mbit/s aggregate) or 4 to 12 T3s (180 to 540 Mbit/s aggregate).

Axerra will use a range of proprietary and standard techniques to ready legacy traffic for the IP backbone. Among these is a method of encapsulating voice and data flows in a special proprietary superset protocol, which is compatible with standard methods like Diffserv, MPLS tagging, and IEEE virtual LAN protocols 802.1p and 802.1q, or so it claims.

"We're working with all the leading standards groups, but we want to provide real solutions today. Call it proprietary, but we think it's leadership," says Axerra president Kirk D. Wrigley.

At first glance, Axerra's solutions sound similar to so-called service-aware switches that function as "optical on-ramps" (see Optical Taxonomy, page 8). But the company says it differs from vendors in this space, like Équipe Communications Corp., in its support of a wider range of legacy traffic, its optimization of VOIP, and its support of individual DS0s.

Being able to manipulate multiple DS0s gives Axerra more flexibility in consolidating a range of data and voice services onto the IP network -- allowing carriers to stop supporting multiple networks separate from their IP infrastructure.

Axerra prides itself particularly on its VOIP capabilities, including support for features like jitter buffering (which, despite its name, is not actually a 1930s dance craze).

Notably, where a number of other vendors are focusing on grooming multiple Sonet channels onto the core optical network, Axerra takes the opposite tack, grooming legacy channels onto the IP backbone. However, it's worth noting that there are limits to the device's granularity capabilities on the router side: Specifically, the links to the router can't be broken into individual STS1 (51.8 Mbit/s) channels -- 155 Mbit/s is the smallest capacity increment available, requiring service providers to cough up for more expensive router interfaces.

Axerra says its product is intended to act as an accessory to existing router vendors' products (a natty handbag to their twinset, if you will). "We aren't out to compete with [the router vendors]," says Steve Byars, senior director of marketing. "Our goal is to accelerate traffic and revenues into those networks."

Axerra's pursuing partnerships with leading core router vendors, such as Cisco Systems Inc. (Nasdaq: CSCO) and Juniper Networks Inc. (Nasdaq: JNPR). Signing joint selling agreements with these kinds of vendors could get Axerra into key carrier accounts.

Founded in December 2000, Axerra is backed by $16 million in first-round funding from a team that includes HarbourVest Partners LLC and Morgan Stanley Dean Witter. Management says it plans to seek more funding this fall and to go public as soon as possible.

Axerra has approximately 60 employees. Besides its headquarters in Florida, the startup maintains an engineering office in Tel Aviv. The management team includes Gil Baran, founder and CEO (ex-RAD); Kirk D. Wrigley, president (ex-Cacheflow, Qtera, Argon, Fore Systems); Terence Winsky, VP of sales (ex-Fore Systems, Newbridge, Nortel); Gil Cordova, VP of marketing and business development (ex-iMesh, Algorithmic Research); Steve Byars, senior director of marketing (ex-Netrix, Bell Labs, GTE); William C. Wise, CFO (ex-Dynatec, Cornet); Alik Shemelmitz, VP of R&D (ex-ECI Telecom); Aharon Shtrosberg, VP operations and testing (ex-RAD Data Comm).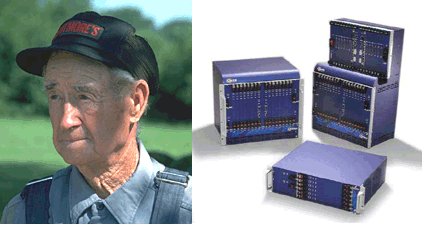 For more information on Supercomm 2001, please visit the Light Reading Supercomm 2001 Preview Site.

-- Mary Jander, Senior Editor, Light Reading http://www.lightreading.com