Budget tightening, like corsetry, often takes the bulge out of one place in order to pop it up somewhere else. In hopes that more money will bust out in their operating budgets, many telecom companies are cinching up their tradeshow marketing budgets.

"All the marketing and image making may not help a company if it doesn't have revenues," says Linda Xiao, a spokeswoman for Alidian Networks Inc.

At Supercomm 2002, some large companies, such as, Marconi plc (Nasdaq/London: MONI) ditched the tradeshow exhibition route altogether. The same thing is happening at the ITU Telecom World 2003 conference in Geneva (see Alcatel, Germany Shun Telecom 2003). While the no-show companies do save money, they also give up the main benefit of being at a tradeshow: visibility.

There is a less drastic course. With NFOEC just around the corner, it's worth taking a look at some ways that companies have backed away from the full-fledged, custom-made booth that typically costs around $100,000 per show to ship, store, set up, and tear down.

Alidian embodies one trend in the world of telecom tradeshow stands. In 2001, it used a refurbished booth that used to belong to Chromatis Networks, the startup that Lucent Technologies Inc. (NYSE: LU) bought. After a fresh coat of paint and some new posters, using the old Chromatis stand cost Alidian about $20,000, a huge savings over buying a bespoke booth.

During its 2002 tradeshow stops, Alidian has again saved money by sharing space with a business partner. Alidian will not exhibit at all at NFOEC, opting instead to appear at the megashows such as Supercomm.

Polaris Networks says it's also using a refurbished booth to save several thousand dollars. A booth-building company, of course, encouraged Polaris to buy a custom stand, but the startup instead pondered purchasing the well seasoned Chromatis kiosk from Alidian, according to Sab Gosal, Polaris's director of product marketing. Realizing it might lose the business, the booth builder quickly found a refurbished unit in its warehouse that fit Polaris's needs.

Enavis Networks Ltd. is taking yet another approach to tradeshow exhibiting. For NFOEC, it has hired a professional landscaper to build a New Orleans-inspired garden courtyard replete with potted plants, shrubbery, cobblestone accents, and patio tables with umbrellas (with perhaps a drunken fat guy passed out in the corner).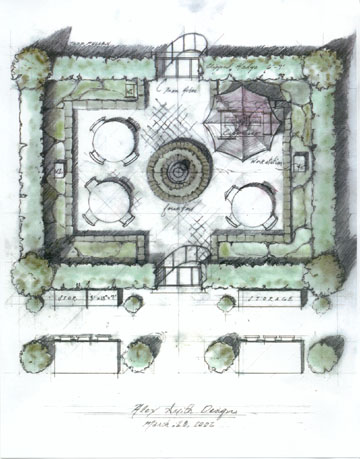 "We normally spend about $100,000 to move and store a custom-built booth," says Paul Ellett, Enavis's VP and general manager for North America, Latin America, and the Caribbean. "This time we're spending around $30,000 per show."

When NFOEC is over, Enavis says it will gather up the wood, plants, and other materials used and donate them to the Dallas-area Habitat for Humanity.

— Phil Harvey, Senior Editor, Light Reading
www.lightreading.com