When will the market for telecom equipment recover?

I'm often asked this question, and in response I usually cast about for some evidence that will enable me to suggest that "Good Times Is Just Around the Corner!"

The truth is that I'm just doing my bit to keep people's endorphins flowing. [Ed. note: Failing that, there's medication.] I actually have no clue when the recovery will happen. Sorry. Although I think – and I'm not afraid to go out on a limb here – that recovery will come... some time or other...

The smart aleck answer to the question about the timing of a recovery is that it's the wrong question. The right question is: "What should I be doing to prepare for the recovery?"

Over the past few months, we've been working on a project that aims to help people answer this question. It finally saw the light of day yesterday, in the form of a 150-page report published by our market research division, Heavy Reading.

The report, entitled Heavy Reading 2003 Telecom Equipment Market Perception Study, examines the results of a massive survey in which 770 service provider employees from around the world participated. We asked them which equipment vendors they recognized in 22 product categories, and we also asked them which they consider market leaders in terms of price, performance, quality and reliability, and service and support.

The report makes addictive reading, demonstrating as it does that the telecom equipment vendor landscape has changed radically in the past few years. Cisco Systems Inc. (Nasdaq: CSCO) has achieved recognition as a world leader (see Cisco Winning Market Perception War). Lucent Technologies Inc.'s (NYSE: LU) reputation has gone into terminal decline. Other Big Names no longer carry so much clout – and a lot of startups hardly register on carriers' radar.

Quoting a few highpoints (and low points) like this isn't really doing the report justice. The massive amount of granular information on how carrier employees perceive their equipment suppliers (304 of them, public and private) provides endless scope for analysis – as well as limitless fodder for kicking off heated debates with one's co-workers.

More importantly, the report can help address the right question – how to prepare for recovery.

From the carrier viewpoint, the Heavy Reading report provides an easy way for service providers to sort the wheat from the chaff when shortlisting suppliers for RFPs – and single out the vendors that look as though they've lost the plot and may not survive.

For instance, carriers might well find it useful to know which suppliers of Sonet-based multiservice provisioning platforms have the best reputation for service and support. In the survey, 157 carrier employees gave their views on this issue, and two suppliers – Cisco and Nortel Networks Corp. (NYSE/Toronto: NT) – stand out from the crowd. In the same product category, Nortel and Fujitsu Ltd. (OTC: FJTSY) are perceived as the front runners on quality and reliability – another issue where feedback from a large number of service provider employees (171 in this case) gives guidance that would be hard to get in other ways.

Among vendors that are slip sliding away, Lucent stands out. As Dennis Mendyk, editor of the report, says in his Heavy Reading column: "Looking at the survey results for Lucent, you can almost hear the carrier market collectively roll its eyes at how mediocre that company is now perceived to be." (See Cisco's Big Bash.)

From the equipment vendor viewpoint, the Heavy Reading study gives companies a vast tome of data to help them figure out whether they're doing the right thing in terms of addressing changing carrier requirements. They can see whether their message is getting through, whether carriers like it, and how they stack up against competitors.

Early signs are that some vendors would rather not know how they're doing. They'd prefer to bury their heads in the sand and look for ways of challenging the results of the survey. That's why you're seeing folk on the message board suggesting that the people we surveyed were dunderheads. They definitely weren't. Read the survey methodology; and check out the breakdown of the survey respondents: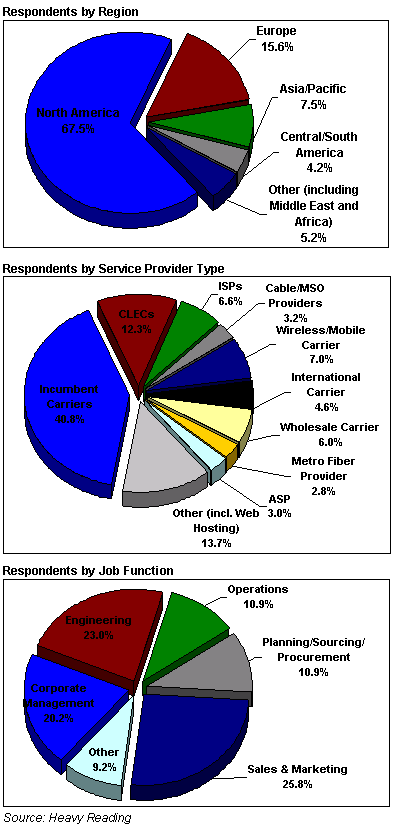 Here are some lessons that equipment vendors might learn from the survey:


Vendors sometimes claim theyalready know their potential customers and thus don't need to do much marketing. Wrong! Most vendors – even big ones – are known by fewer than 50 percent of survey respondents, and these are respondents that claim familiarity with the product category under review.


Startups that cut their marketing budgets, often at the behest of their VCs, are making a big mistake. With a few exceptions, most startup vendors are known by fewer than 20 percent of their potential customers. The argument that this no longer matters to startups because they are hoping to be acquired by a bigger vendor is – not to put too fine a point on it – utter hogwash. They won't get acquired unless they can show traction with carrier customers, as my recent interview with Niel Ransom, CTO at Alcatel SA (NYSE: ALA; Paris: CGEP:PA), demonstrated (see Niel Ransom, Alcatel CTO).


Vendors that are sitting on the sidelines, aiming to rekindle marketing efforts when the recovery begins, are being forgotten about by carriers. Sycamore Networks Inc. (Nasdaq: SCMR), for instance, is now only recognized as an optical switch vendor by 36.7 percent of carriers, as opposed to 77.5 percent for Nortel and 71.7 percent for Lucent.
The Heavy Reading study also indicates whether marketing money is being well spent. Juniper Networks Inc. (Nasdaq: JNPR), for instance, has been placing small cartoon ads in the Wall Street Journal, to attract the attention of executive decision makers. You may have noticed, although it looks as though those executive decision makers haven't. One in five corporate managers in the survey don't even know that Juniper makes a core router.

From the investor viewpoint, the Heavy Reading report helps sort out the winners and losers among equipment vendors. The granular analysis of how vendors stack up against the competition, and what potential customers think of them, provides financial analysts a useful tool for assessing whether companies are going to be in a good position when recovery happens – whenever that is.

All in all, this survey stands as one of things that I'm most proud of since founding Light Reading four years ago. Partly, that's because it is such a clear proof point for how huge and influential our readership now is (nearly a thousand service providers took the time to take this survey). But mainly it's because it is exactly the kind of document that a fiercely independent technology publisher like Light Reading should be producing: a huge volume of quantitative information, gathered using a bulletproof methodology, that cuts like a razor through all the complacent, smug BS that companies of every size in our business spread about themselves and their competitors.

The Heavy Reading 2003 Telecom Equipment Market Perception Study shows exactly what their customers really think.

— Peter Heywood, Founding Editor, Light Reading