Is bubble deflation catching up to the Asia/Pacific region?

When North American equipment makers started looking to Asia/Pac to make up for the sales slowdown in Europe and the U.S., there were danger signs that they were simply chasing the bubble overseas (see Is a Bubble Building in Asia?, The Asian Invasion, and Will the Asian Migration Be Profitable?). In fact, new research shows that Asian carriers followed the the same path of financial risk in 2001 and 2002 -- spending an unsustainable portion of their revenues on capital spending.

Just as North American carriers have had to curtail spending, Asian cariers are trimming capex and narrowing the gap between revenues and money spent on new builds, according to a recent report from Infonetics Research Inc.

In fact, the ratio of revenues to capex was wider in Asia than in the U.S., indicating a greater affinity for risk among Asian incumbents.

In 2001 and 2002, for instance, incumbent carriers in the Asia/Pac spent $13.2 billion and $17.8 billion, respectively, on infrastructure improvements and additions. The ratio of capex to sales was 26 percent in 2001 and 32 percent in 2002.

In comparison, U.S. RBOCs spent $43.1 billion on capex in 2001, then cut to $25.4 billion in 2002, according to Infonetics. The capex-to-sales ratio for RBOCs in 2001 was 28 percent, falling to 17 percent in 2002. For 2003, the firm predicts RBOCs will spend about $23.2 percent, representing a capex-to-sales ratio of 16 percent.

Now Asia's fallen in with U.S. trends. Infonetics predicts that capex among incumbents in the Asia/Pac will drop 14 percent in 2003, to $15.3 billion. The capex-to-sales ratio will also drop, from 32 percent to 25 percent.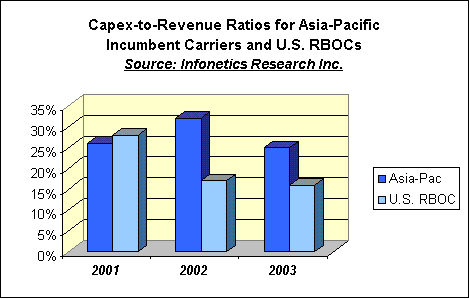 The reasons for the drop aren't tough to nail. "There's general economic sluggishness, and there's a pullback on investment in service providers," says Infonetics analyst Richard Webb. Like their Western counterparts, incumbent carriers in Asia are streamlining, laying off staff, and waiting for the market to be ready for certain types of value-added services, Webb says.

Still, there are bright spots not shared by RBOCs. Broadband deployments are way up: S. Korea leads the world in providing universal access to high-speed data services. IP VPNs are also flourishing in some spots, Webb says.

Like carriers in Europe and the U.S., Asia/Pac incumbents are settling into a pattern of "success-based spending," Webb asserts. They're only going to buy what customers demand.

Interestingly, that approach will continue to support big spending in some places, such as China, where infrastructure is still being built. The top spenders for 2003, Infonetics predicts, will be China Telecommunications Corp. (NYSE: CHA) and China Unicom Ltd. Following them will be Korea Telecom, KDDI Corp., and Telstra Corp. — Mary Jander, Senior Editor, Light Reading