As large enterprises continue to embrace Ethernet services, applications are likely to become a hot topic, according to speakers at Light Reading's Ethernet Expo this past week.

Meanwhile, though, carriers are still limited by the reach of their networks and are continuing to press hard for interconnection standards.

The Expo concluded with a day-long session on enterprise services, with some user perspectives. A representative from Johnson & Johnson, for example, described the setup it's using on the Verizon Enterprise Solutions network: one OC192 ring and one OC48 ring, replacing a tangle of Frame Relay spokes.

With the evangelism phase apparently complete, the next big topic for Ethernet might be the integration of applications into services. "Next year I think we'll see a lot more application companies at this conference and will be discussing the role of Ethernet within these specific applications," said Keao Caindec, chief marketing officer of Yipes Enterprise Services Inc.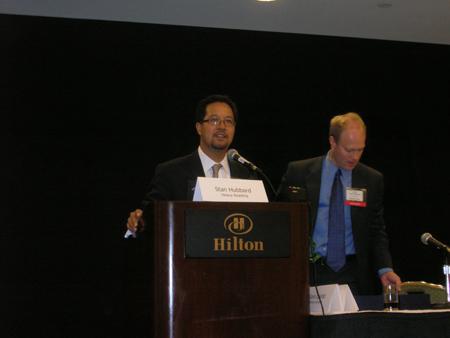 "As a larger service provider, we have a large range of products. A top priority will be the integration of these products into the Ethernet portfolio," said Alla E. Reznick, group manager for IP and Ethernet Services at Verizon Business.

It won't be easy. Adding more applications to an Ethernet services portfolio makes things more complicated and makes the need for managed services more glaring.

"There's going to be a great need for operationalizing in a cost-effective manner the provisioning of various services," said Kamran Sistanizadeh, Yipes's chief technology officer. "There's still a lot more work that needs to be done to ensure that Ethernet as a service is seamless."

Challenges ahead
Meanwhile, Ethernet services face plenty of issues in the here-and-now, as noted in an AT&T Inc. (NYSE: T) keynote earlier. (See Ethernet's Missing Pieces.)

Access -- including a lack of fiber or an inability to reach certain service providers -- remains a primary roadblock, speakers and attendees said.

Gary Bolton, vice president of marketing at Hatteras Networks Inc. , was among many speakers noting that 87 percent of businesses -- or some figure thereabouts -- still do not have fiber access. That means service providers are looking at alternatives such as Ethernet over copper and even Ethernet over Sonet.

"Regrettably we don't have fiber everywhere, no one does. If someone wants Ethernet reach everywhere, you need to offer a variety of technologies," said XO Communications Inc. CTO Randy Nicklas. XO is particularly interested in Ethernet over copper, he noted. (See Is Ethernet Becoming Fiber's Friend?)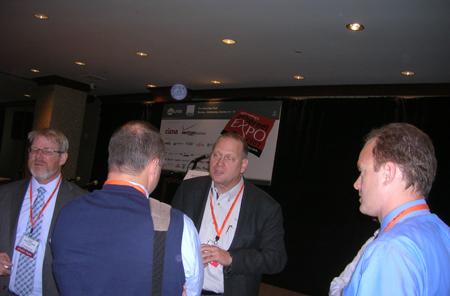 Service providers are also having trouble getting access to enterprise locations that might not be in their footprints. "No one's got a footprint that's national, and leasing Ethernet is a very difficult task," said Fred Ellefson, ADVA Optical Networking 's VP of Etherjack Alliances.

Rich Klapman, AT&T's director of product marketing for Ethernet services, agreed. He said that, working with some access providers, it can take 45 days just to get a price for a leased line, and then it can take another 90 days to extend Ethernet services.

That problem becomes even more apparent as enterprises increasingly look to extend Ethernet services nationally or even internationally. As a result, service providers are finding that they need to work together to offer those services in markets they might not have access to -- a cheaper alternative to building out networks to reach customers.

"This year carriers seem more in sync with each other, and I definitely do see more relationships forming over the next year," Yipes's Caindec said.

The MEF has been trying to bridge those gaps with a program designed to certify both Ethernet equipment and Ethernet services to ensure interoperability. However, interoperability is still an issue, even for carriers certified as MEF 9 and MEF 14 compliant, because the industry lacks external network-to-network interface (E-NNI) standards.

As a result, carriers must develop an E-NNI for each partnership. Caindec noted in his keynote that Yipes has E-NNI agreements with 10 companies to provide global Ethernet services, but that it had to develop four different E-NNI "templates" it uses to bridge those connections.

Back in May, the MEF was hoping to craft some E-NNI specifications by the end of the year. (See MEF Tackles Ethernet Interconnect.) At Ethernet Expo, Richard Dagnall, vice president of marketing for MEF-endorsed certification lab Iometrix Inc. , reiterated that the group is "confident we can get that done by 2008."

— Ryan Lawler and Raymond McConville, Reporters, Light Reading