3:15 PM -- Revenues from mobile apps are set to grow from just under $10 billion in 2009 to $32 billion in 2015, thanks to a combination of pay-per-download, value-added services, and advertising.

This is the finding of a new report today from UK-firm Juniper Research Ltd. , which notes that the growth is promising, but won't be easy to achieve.

Most app stores, epitomized by Apple Inc. (Nasdaq: AAPL)'s, haven't suffered from a lack of apps or even a lack of downloads, but ROI has been the big stumbling point. The majority of apps are still free -- Juniper says that only around 5 to 15 percent are paid for, so developers have look elsewhere for monetization.

In-app ads are springing up as a viable means of monetization thanks to platforms like Apple's iAd, although it has received its fair share of criticism. In-app payments are another way developers are squeezing revenues from consumers, offering upgrades within a free or premium app for a fee.

Developers also had better look at phones other than the iPhone if they plan to build their business on apps alone, Juniper advises. This includes mass-market phones in developing regions.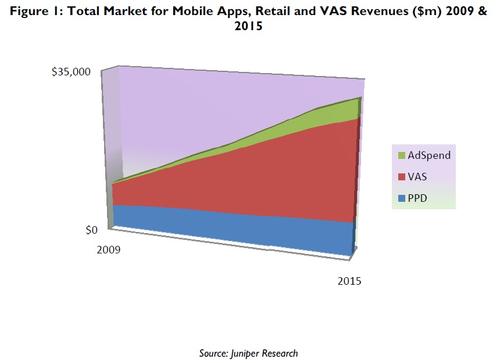 Other app happenings this week:


Handset maker High Tech Computer Corp. (HTC) (Taiwan: 2498) has acquired mobile app developer Abaxia to upgrade its Sense user interface that sits on top of its partners' operating systems. Abaxia's software lets mobile phone makers, including its existing customers Nokia Corp. (NYSE: NOK), Motorola Inc. (NYSE: MOT), and Samsung Corp. , customize and add features to handsets' home screen and idle pages.


Mobile's favorite stalwart, SMS, is still going strong, reports Syniverse Technologies LLC , which announced today it moved an average of 1.52 billion mobile messages per day in the first quarter of 2010. That's an increase of 32 percent from the first quarter of 2009.

Peer-to-peer messaging, which includes SMS and MMS picture messages, was up 17 percent year-on-year. Regular text messages still make up 98 percent of the company's P2P volumes, but MMS grew at an impressive rate of 235 percent over the past year, the messaging vendor says.

The enterprise segment of Syniverse's business got some action too, with application-to-person services, such as mobile banking, growing 73 percent year-on-year in the first quarter.

— Sarah Reedy, Senior Reporter, Light Reading Mobile