Optical networking components that guide lightwaves from one place to another will show double-digit growth rates through 2010, according to a report released this week by market research firm ElectroniCast Corp.

The report details the growth of planar waveguide circuits, defined as tiny channels made of plastic, polymer, or even ceramic that direct lightwaves inside optical gear -- across optical switch fabrics, for instance. Leading vendors of planar waveguides include Agere Systems (NYSE: AGR), Alcatel SA (NYSE: ALA; Paris: CGEP:PA), Bookham Technology PLC (Nasdaq: BKHM; London: BHM), JDS Uniphase Inc. (Nasdaq: JDSU; Toronto: JDU), Lightwave Microsystems Corp., NTT Electronics Corp. (NEL), and Nortel Networks Corp. (NYSE/Toronto: NT).

Unlike other types of waveguides, such as fiber itself or freespace optics, planar waveguides are designed on flat substrates, as the name implies, making them simpler to use in a range of applications and easier to group onto chips and boards with other kinds of components.

Demand for these so-called integrated multifunctional modules is the key force driving the planar waveguide circuit market, which was a relatively small one in 2001 but is predicted to grow 57.8 percent this year, according to ElectroniCast. Growth rates in the high 30s will continue through 2006, the firm forecasts. By 2011, the market will reach over $4.2 billion.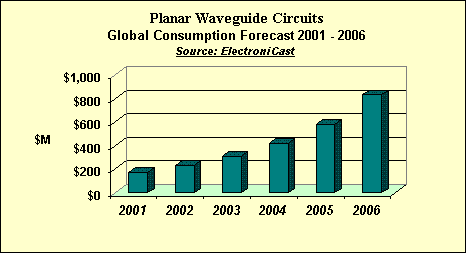 The firm carefully qualifies its forecast figures. "Our dollar figures represent the value of waveguides consumed, not purchased," says Stephen Montgomery, report author and president of the firm. He says that unless revenue from planar waveguide circuits is counted this way, market trends can't be predicted accurately.

"In 2000, more waveguides were produced than were actually put into products. In 2001, production was down, but actual consumption was up." These distinctions are lost if one only counts the revenue on chips produced, he says.

A key factor in the bright future of planar waveguide circuits is the flexibility of the technology. Not only is it possible for makers of waveguides to create many different types of products by tweaking the manufacturing process, it's also possible to make waveguides out of an increasing variety of materials.

This flexibility gives vendors the means to respond quickly to market conditions, and, with some ingenuity, identify increasingly efficient ways to produce their products. "The technology has been there for awhile," says Montgomery, "so the market will be driven by customer demand."

— Mary Jander, Senior Editor, Light Reading
http://www.lightreading.com