Alcatel SA (NYSE: ALA; Paris: CGEP:PA) has won the majority of a new $500 million submarine network construction contract that will provide a terabit of capacity on a key route running from Europe to Singapore (see Carriers Fund Sea-Me-We 4 Cable).

While the contract to build the 20,000-kilometer SEA-ME-WE 4 network has been won jointly by Alcatel and Fujitsu Ltd. (OTC: FJTSY; Tokyo: 6702), Georges Krebs, COO of Alcatel Submarine Networks, says the French vendor's cut of the action accounts for more than half of the total value, though NDAs prevented him from revealing a specific amount (see Alcatel, Fujitsu Build Sea-Me-We 4).

Alcatel will provide SDH equipment and network management systems and build three of the four segments of SEA-ME-WE 4 -- a subsea link between Marseille in France and Alexandria in Egypt, an overground connection from Alexandria to Suez, Egypt, and a further subsea connection from Suez to Mumbai in India. Fujitsu will build Segment 1, a submarine link from Mumbai to Singapore that lands at Chenai on the east coast of India and at four other locations (see network map below).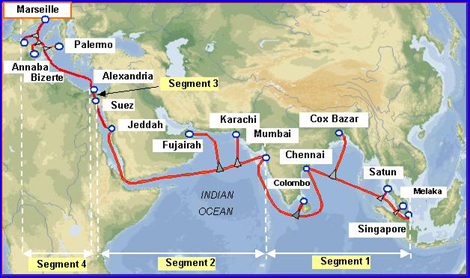 And Krebs says there's more underwater action in the pipeline. First up is the contract to build a new network, dubbed Falcon, for FLAG Telecom, though he doesn't know if Alcatel stands to win any work there (see Flag Flies After Subsea Market). That network will link the Middle East to Egypt and Hong Kong via India.

Then there'll soon be a pressing need for more capacity on the transpacific route running east out of China, reckons Krebs. "This hasn't been over-equipped in the same way as the transatlantic route, and there aren't a large number of systems [heading east] out of China," though there's plenty of capacity linking China with Singapore.

East Africa is another region that will likely require greater capacity soon, Krebs adds. He says the East Africa festoon (a submarine system that doesn't have any submerged active equipment, such as repeaters) that connects various countries to South Africa, is filling up, though it won't require a massive amount of additional capacity.

While the overall market has suffered during the past two years, these new builds are signs of a slowly recovering sector (see Subsea Market Tanks, Says Probe and Alcatel's Submarine Prospects Sinking). Greater capacity requirements are the result of increasing volumes of international data traffic, driven mostly by the proliferation of broadband connections to homes and businesses, says Krebs. That trend appears to be opening up opportunities for new entrants in the subsea market (see Submarine Startup Surfaces and C&W Boosts Capacity With Azea).

— Ray Sea-Me-Le Maistre, International Editor, Boardwatch