Alcatel Pushes Ethernet-Over-MPLS
Alcatel SA
(NYSE: ALA; Paris: CGEP:PA) today announced two new products targeting the delivery of Ethernet-based services -- the Alcatel 7450 Ethernet Service Switch and the Alcatel 1662 Packet Ring Switch (see
Alcatel Unveils Metro Ethernet Products
).
In both cases, Alcatel has built Ethernet-only versions of existing multiservice edge products, with a view to bringing down the cost of using
Multiprotocol Label Switching (MPLS)
to provide virtual private line and virtual private LAN Ethernet services.
The idea is that the cost reduction will encourage carriers to extend the use of MPLS-based equipment in their networks, towards customers. This is at the expense of using pure Ethernet switches, which are less expensive than MPLS-based edge devices but don't have such a strong story in terms of scaleability, resilience, and support for service-level guarantees.
Alcatel 7450 Ethernet Service Switch
This is an Ethernet-only version of the TiMetra box, the Alcatel 7750 Service Router. In other words, it uses MPLS signaling to set up Ethernet point-to-point and multipoint virtual networks, but it doesn't do any routing and thus doesn't support Layer 3 IP VPNs or IP multicasts, as the TiMetra box does. Neither does it support the delivery of Frame Relay and ATM services.
Alcatel says that for a typical Ethernet-only application, the 7450 will be "up to 30 percent" less expensive than the 7750.
Lindsay Newell, director of product marketing for Alcatel's IP division, characterizes the 7450 as a "service aggregation" box and the 7750 as a "core edge" device and says they'll often work together in the same network.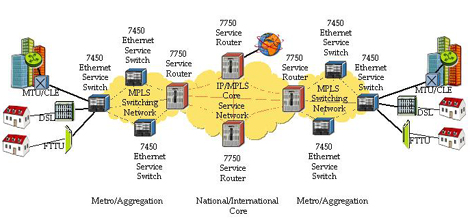 The lower cost of the 7450 extends the benefits of MPLS towards customers. Those benefits include: sub-50-millisecond rerouting of traffic around failures (much faster than pure Ethernet rerouting technologies such as Spanning Tree); rapid service provisioning, courtesy of Alcatel's existing management system; and per-service, hierarchical quality-of-service, accounting, and OA&M (operations, administration, and maintenance).
These benefits really come into play when MPLS can be extended end-to-end, and Alcatel's 7450 won't go that far in the majority of cases. So far, there are two models:
The 7450 ESS-7, an eight-rack-unit (14-inch-high) chassis with two switch fabric slots, 10 interface half slots, and a switching capacity of up to 200 Gbit/s
The 7450 ESS-1, a 1.5-RU (2.625-inch-high) integrated box with two interface half slots and a switching capacity of 20 Gbit/s
The 7450 ESS-1 could be used as high-end customer located equipment (CLE), but Newell says this would be out-of-the-ordinary. "In the long term, we believe MPLS will go all the way to the CLE," he says, implying that an even lower-cost box would be required.
At least two other vendors already have Ethernet-over-MPLS products that could be used as CLE according to Geoff Bennett, chief technologist for
Heavy Reading
, who happens to have recently surveyed equipment in this space. They are the Cisco 3750 from
Cisco Systems Inc.
(Nasdaq: CSCO) and the RS1000 and RS1100 from
Riverstone Networks Inc.
(OTC: RSTN.PK).
Bennett points out that extending MPLS from the edge of the core to the service aggregation level, as Alcatel has done, brings some benefits anyhow, because it avoids having to backhaul packet-based traffic in order to switch it.
Until carriers can reap the benefits of end-to-end MPLS, a lot of them are probably going to stick with providing Ethernet services using next-generation
Sonet/SDH
, rather than MPLS, Bennett adds. "As Alcatel already has a strong position in the SDH market, its account managers will have to be careful to pitch the right strategy to the right customer."
Alcatel says
TeliaSonera International Carrier (TIC)
, a major Scandinavian service provider, is already trialing the 7450. It's being used to offer managed Ethernet services to business users and to aggregate Ethernet traffic from DSLAM-based broadband consumer services. General availability is planned by "the end of Q3," according to Newell.
Alcatel 1662 Packet Ring Switch
This product targets non-North American markets only, as it's for carriers with SDH, as opposed to Sonet, infrastructure. It enables them to offer MPLS-based Ethernet services that run over
Resilient Packet Ring Technology
, which in turn runs over existing STM-4 (622 Mbit/s) rings. It also enables carriers to offer Ethernet services in areas where they don't already have SDH infrastructure.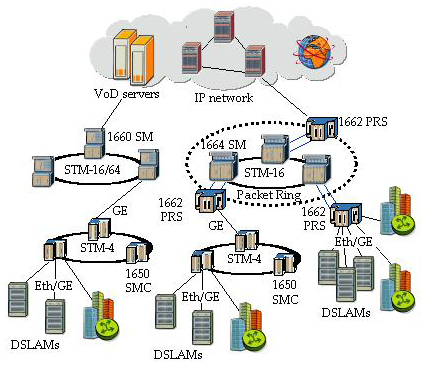 This is another instance of Alcatel developing an Ethernet-only version of an existing multiservice product, in this case its Optical Multiservice Node (OMSN) family. The 1662 PRS is the OMSN minus its support for TDM services,
ATM
switching, and SAN extension technologies.
Stefano Schiavoni, VP of product strategy for Alcatel's optical networks division, says it's the next step in the evolution from circuit to packet telecom networks. Carriers started with TDM-only add/drop multiplexers. Then they introduced platforms like the OMSN that could furnish circuit- and packet-based services. Now they want to reduce costs and complete the transition with packet-only platforms.
The 1662 is available now, and has already been deployed by some customers, according to Vinay Rathore, Alcatel's director of strategic marketing for fixed communications. It's managed by Alcatel's 1350 system, the same one used to manage OMSN products.
— Peter Heywood, Founding Editor,
Light Reading
EDUCATIONAL RESOURCES



PARTNER PERSPECTIVES
- content from our sponsors