It's enough to make a Francophile of the staunchest holdout. Shares of Alcatel SA (NYSE: ALA; Paris: CGEP:PA) shot up over 30 percent in trading today, after the French firm announced upbeat expectations for next quarter and next year (see Nokia Wins Taiwan 3G Deal).

The news followed a similar breath of Parisian fresh air from France Telecom SA (NYSE: FTE) last week (see France Telecom Revenues Rise and Orange Needs Target Practice). Perhaps the two are not unrelated? Bien sur!

Despite a sequential 17 percent drop in sales to a third-quarter total of €3.51 billion (US$3.10 billion) and a quarterly net loss of €1.35 billion ($1.33 billion), Alcatel execs told analysts this morning they're confident of returning to "double-digit" sales growth for the upcoming fourth quarter. They're also predicting a return to overall profitability by the end of 2003.

"We are confident that Alcatel will return to profitability in 2003. In 2002 operating losses should be confined to our optics business, currently under intensive restructuring. All other segments are at around breakeven," Chairman and CEO Serge Tchuruk said in a prepared statement, speaking without the aid of a beret, or string of onions.

Tchuruk said there will be ongoing "severe" cuts in the optics segment, which includes Alcatel Optronics (Nasdaq: ALAO; Paris: CGO.PA), the components division that reports separately. Overall, optics accounted for 19 percent of Alcatel's overall sales this quarter.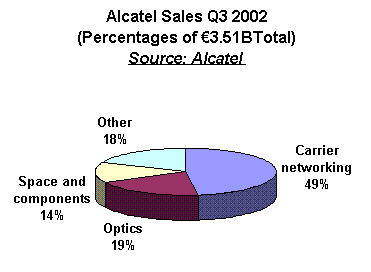 He said worldwide jobs in optics would be slashed to "below 9,000" by the end of 2003, less than half of what it was at the end of 2001. That figure includes a 58 percent reduction at Optronics, previously announced (see Alcatel Optronics to be Slashed).

The optics cuts are only a portion of ongoing cuts at Alcatel that are expected to reduce the employee census for this quarter's level of 84,000 total to 60,000 by the end of 2003.

Tchuruk repeatedly told analysts he wouldn't be ditching or selling Alcatel's optics division, despite its problems. "We see it as a strong asset for the long term... the trend in optical networking will resume," he said. But he indicated sales wouldn't reach the giddy levels of 2000.

In a conference call this morning, Tchuruk cited a range of factors fueling his expectations, among them: "assurances of business materializing" in the near term; balance sheet improvements; ongoing cuts resulting in ever-lower breakeven points over the next several quarters; and indications of a rebound in demand for broadband access equipment, where Alcatel sales are strong, and for wireless, where they are growing more quickly than any other company division.

Key to Alcatel's optimism is its cash position, which the company says now represents about €5.1 billion ($5.01 billion). The increase in cash has given Alcatel the means to decrease its net debt to €1 billion ($984 million) this quarter. The company says it has had five consecutive quarters of positive cash flow.

In his presentation, Tchuruk also said Alcatel's broad product lineup and geographic distribution cushions it a bit more than some of its competitors against the vagaries of carrier capex, particularly in the U.S., where 14 percent of its customers are located.

Despite the upbeat predictions, several variables could affect Alcatel's hopeful vision. The sizeable job cuts the company needs to get to breakeven will be challenging, particularly in the geography Alcatel deals in, where every set of layoffs is tightly negotiated with employee representatives.

Further, while the company isn't banking on optics to raise it from the doldrums, sizeable cuts in that business could mean reduction in sales. What's more, Alcatel is counting on increased sales in DSLAMs, where some analysts predict a weakening future. There are also variables in the wireless business, where Alcatel's set its cap.

Alcatel execs also said today that provisions and writeoffs dictated by further economic deterioration could affect its plans for next year. But in the conference call, Tchuruk and CFO Jean-Pascal Beaufret insisted they were merely hedging their bets by stating the risks.

"We are confident," Tchuruk said.

— Mary Jander, Senior Editor, Light Reading
www.lightreading.com