AlcaLu Wants the Data Center, Too
Alcatel-Lucent
(NYSE: ALU) is announcing its own data center fabric on Tuesday, going up against Brocade One from
Brocade Communications Systems Inc.
(Nasdaq: BRCD), the Unified Fabric from
Cisco Systems Inc.
(Nasdaq: CSCO), and QFabric from
Juniper Networks Inc.
(NYSE: JNPR).
New pieces being introduced are the OmniSwitch 6900, which is a 10Gbit/s top-of-rack Ethernet switch, and OmniVista 2500 Virtual Machine Manager (VMM), which helps track and move virtual machines around the data center.
AlcaLu calls its fabric the Enterprise Mesh, and it uses the OmniSwitch 10K -- which was launched in October -- at its core. The recipe for the largest Enterprise Mesh configurations is as follows: Start with six OmniSwitch 9600s arranged in a pod. Five such pods can share a connection to the OmniSwitch 10K (that connection consisting of five 40Gbit/s links). Twelve of these five-pod units can be served by a pair of OmniSwitch 10Ks.
That whole shebang has a switching capacity of 169Tbit/s, AlcaLu claims.
The fabric connections will use a protocol called shortest path bridging (SPB). It's a rival to Trill, the protocol favored by Brocade. SPB is already used by service providers in wide-area networks, says Cliff Grossner, an AlcaLu director of product marketing. That fits with AlcaLu's goal of stretching its fabric across multiple data centers.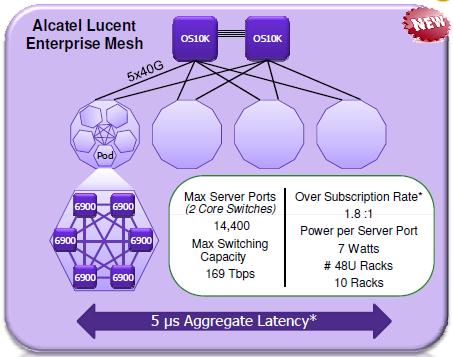 Why this matters
A battle royale is brewing around the concept of a data center fabric. AlcaLu has proven itself a worthy rival to Cisco and Juniper in service-provider networks; now it's engaging them (and Brocade) in the virtualized data center, where the "product" has become the entire network.
"I think 2011 is going to be the year of the fabric war," Grossner says. In terms of marketing, at least, that's certainly the case.
For more
AlcaLu's application fluency announcement from October, and other missives from the fabric wars:
— Craig Matsumoto, West Coast Editor,
Light Reading
EDUCATIONAL RESOURCES


PARTNER PERSPECTIVES
- content from our sponsors