ADVA Slims Product, Wins Customer

Comment (0)
As it looks forward to the CeBit show next week,
ADVA AG Optical Networking
(Frankfurt: ADV) is set to prove that the metro DWDM transport equipment sector still has vitality.
This week the company announced a new product for customer premises and detailed a new customer deal with
LambdaNet Communications GmbH
, a carrier's carrier in Hannover, Germany.
First, the fresh gear. ADVA announced Wednesday it has built a Slimline chassis version of its Fiber Service Platform (FSP) 3000 product. The product uses the same cards, technology, and management system as the bigger FSP 3000, but it's designed to handle a different set of applications (see
ADVA Slims Down FSP 3000
).
The ADVA FSP 3000 is a DWDM transport box, seven rack-units high and holding up to eight channel cards that provide 32 protected channels of bandwidth -- for a total capacity of 640 Gbit/s. The Slimline version, however, is three rack units high and holds up to two channel cards. The Slimline can send a wavelength up to 80 km without regeneration and up to 500 km with integrated
Erbium Doped-Fiber Amplifiers (EDFAs)
and regenerators.
Brian McCann, ADVA's chief marketing and strategy officer, says the Slimline could be used in place of a full-blown FSP 3000 for carriers that want to send one or two wavelengths from their metro ring to a customer's premises. The box is also useful in point-to-point applications, where, say, a corporation just wants to extend a 10-Gbit/s Ethernet link to one of its campuses but doesn't need any WDM capability, he says.
ADVA, which makes a lot of its sales through partners, hasn't specified when other vendors will begin selling the Slimline box. "Let's just say the product has been made available to all of ADVA's partners," McCann says.
Now the customer announcement: Separately, ADVA announced that LambdaNet is using its gear in five of the 104 cities served in its 22,000km network. The gear was sold by
Siemens Information and Communications Networks Inc.
, which markets ADVA's products under the Siemens WaveLine label.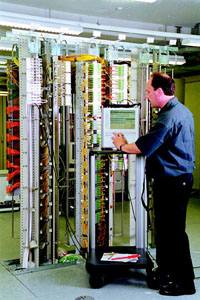 In late 2002, the carrier began deploying ADVA's FSP 2000 and 3000 products in its network. It set up about 40 STM4 (622 Mbit/s) and STM16 (2.5 Gbit/s) links in point-to-point and linear add/drop configurations. LambdaNet, by the way, operates meshed rings, hubbed rings, and point-to-point fiber connections for its customers. In some cases, it found a need to add bandwidth and services to existing fibers.
ADVA's financial guidance for its fourth quarter of 2002 is between €20 million and €25 million, putting its full-year 2002 revenues in the range of €86 million to €91 million. The company expects €20 million to €25 million in revenues for its first quarter of fiscal 2003.
— Phil Harvey, Senior Editor,
Light Reading