Adtran Insiders a Busy Bunch
Access networking gear maker
Adtran Inc.
(Nasdaq: ADTN) ended 2003 with the one of the highest insider sales volumes of any company in the public markets, according to information distributed by
Thomson Financial
on Tuesday. The company had sales of $510 million in shares from corporate insiders, broadly defined as those who have access to non-public, material information.
Microsoft Corp.
(Nasdaq: MSFT) led all insider sellers by disposing of stock worth $3.4 billion during the year.
Dell Computer Corp.
(Nasdaq: DELL) and
Time Warner Inc.
(NYSE: TWX) were the only two other companies that unloaded more stock than Adtran.
Individuals topping the list included Adtran CEO Mark Smith, who sold some $460 million in shares last year, making him the fifth highest volume seller during the year. Microsoft CEO Steve Ballmer, Dell founder Michael Dell, Ted Turner, and Microsoft chairman Bill Gates all sold more than Smith during the year.
For its list Thomson tracked only direct transactions at companies having a market capitalization greater than $100 million.
What's it all mean? That depends. "The meaning behind any one insider's selling (or buying) activity is very individual," explains Thomson's Insider analyst Kevin Schwenger in an email to
Light Reading
.
Sometimes insiders sell to diversify their investments, or to make a down payment on a house, for example. Other times, selling can show that an executive has lost confidence in where a company's heading. The latter certainly doesn't appear to be the case with Adtran.
In fact, in 2003, Adtran watchers would have done well to watch Smith, and do the opposite. Following five of Smith's stock sales in 2003, Adtran's stock gained an average of 46.5 percent. "He is not a very prescient seller," writes Schwenger.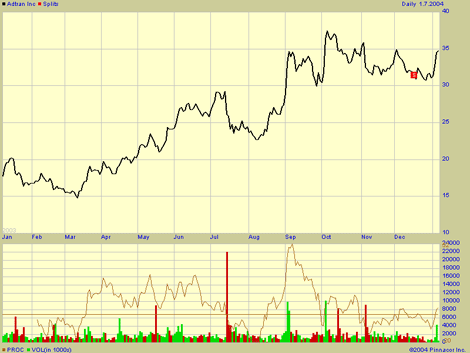 Adtran didn't have a
Carrier Access Corp.
(Nasdaq: CACS) kind of year in 2003, but it didn't do badly (see
2003 Top Ten: Explosions & Implosions
). Between January 15 and December 15, 2003, the company's shares rose 58 percent, from $20.10 to $31.90.
Adtran didn't respond to a request for comment on Tuesday.
— Phil Harvey, Senior Editor,
Light Reading
EDUCATIONAL RESOURCES



PARTNER PERSPECTIVES
- content from our sponsors