The market for wireless LAN equipment sales has enjoyed its strongest quarter yet, fueled by a large increase in demand from both the enterprise and SOHO industry sectors. So say the number crunchers over at Synergy Research Group Inc..

Approximately 7.5 million 802.11 units (defined as access points, bridges, PCMCIA cards, embedded clients, voice-over-WLAN phones) were shipped in the third quarter this year, up 18 percent on the second quarter's 6.3 million.

Vendor revenues in the third quarter also increased by a similar amount, up 16 percent to $679 million. Sales for the previous quarter hit $583 million, as shown in the diagram below.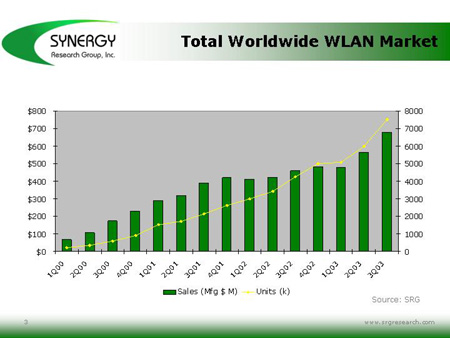 "It was a pretty significant jump," Synergy analyst Aaron Vance tells Unstrung. "One of the main reasons is that we are seeing businesses spending on enterprise-class equipment. For a while, and throughout 2002, there was a real lull in enterprise wireless LAN equipment. Consumer adoption of the technology also abated, but now we are seeing continued deployment from both sectors."

In terms of vendor breakdown, Cisco Systems Inc. (Nasdaq: CSCO) remains the undisputed king of enterprise equipment, recording a third-quarter market share of 44.5 percent, streets ahead of second-place rival Symbol Technologies Inc. (NYSE: SBL) with 15.3 percent. Cisco's current standing is a significant increase on its total 2002 market share of 31.5 percent (see 802.11 WLAN Shipments Double).

Not that the Synergy man expects Cisco to enjoy such an easy ride in the future: "I suspect Cisco will definitely remain the leader but I am not sure if it will do so by such a huge margin. You might be seeing market share taken by some of the other incumbent networking vendors like Extreme, Foundry, Nortel, and HP."

Meanwhile, recent Cisco acquisition victim Linksys has maintained its No. 1 spot in the SOHO/Home Wireless LAN equipment market -- but only just (see Cisco Completes Linksys Acquisition). The vendor holds a 21.8 percent market share, closely trailed by a group of "others" at 21.2 percent. Vance cites Microsoft Corp. (Nasdaq: MSFT) and Sony Corp. (NYSE: SNE) as likely suspects in this category.

— Justin Springham, Senior Editor, Europe, Unstrung