The days of soaring quarterly growth for wireless LAN equipment sales may be coming to an end, judging by the latest market figures from the number crunchers at Synergy Research Group Inc.

According to the company's latest report, total sales of 802.11 kit -- defined as access points, bridges, PCMCIA cards, embedded clients, switches, and voice-over-WLAN phones -- fell 2 percent in the second quarter of 2004 to $658.2 million.

Such a decline bucks the trend of previously rocketing quarterly growth. Earlier this year, the research firm was hopeful that quarterly revenue figures might even have broken through the magic $1 billion barrier by the end of 2004 (see 802.11 Kit Sales: Ka-Ching!).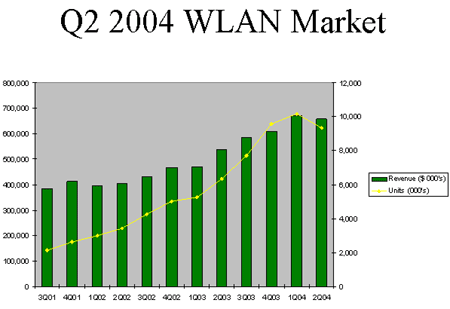 "I guess it had to stop growing at the pace it has been moving at," comments senior analyst Aaron Vance. "A [12 percent] fall in the consumer market has dragged it down, but consumer second quarter is typically down on a seasonal basis and I don't see any real cause to worry."

In terms of vendor breakdown, Cisco Systems Inc. (Nasdaq: CSCO) continues to dominate overall market share with 20.3 percent, followed by Linksys, D-Link Systems Inc., and Netgear Inc. (Nasdaq: NTGR), at 15.3, 9.8, and 7.1 percent, respectively.

Cisco also leads the way in enterprise equipment sales, with a 44 percent market share (up from 42 percent the previous quarter). The U.S. vendor leaves Symbol Technologies Inc. (NYSE: SBL), Proxim Corp. (Nasdaq: PROX), and 3Com Corp. (Nasdaq: COMS) trailing in its wake, at 15.1, 4.4, and 4.3 percent, respectively.

Meanwhile, Linksys has increased its lead in the SOHO/home wireless LAN equipment market, up 2.3 percent to 28.6 percent. D-Link takes the silver spot with 18.4 percent, followed by Netgear at 13.2 percent.

Despite the fall in overall quarterly sales, the wireless LAN switch and "light" access point market has really taken off. The likes of Airespace Inc., Aruba Wireless Networks, Bluesocket Inc., Extreme Networks Inc. (Nasdaq: EXTR), Hewlett-Packard Co. (NYSE: HPQ), ReefEdge Inc., and Symbol have helped create a market worth "nearly $51 million" in the second quarter of 2004, according to Synergy -- nearly double the first quarter's value ($26 million).

— Justin Springham, Senior Editor, Europe, Unstrung