NEW YORK -- Here at Light Reading headquarters, we're set to announce the 2007 Leading Lights award winners.

But before we do that -- at a dinner event held here in New York this evening -- let's take a moment to reflect on last year's Leading Lights.

Who lived up to expectations? Who flopped miserably? Which companies rewarded our picks with Colorado Rockies-like winning streaks... and which ones choked like the (gulp) New York Mets and Yankees?

Here's a look back at how last year's crop fared. To review the 2007 finalists, see Leading Lights Finalists .



Best Investment Potential (Long-Term), Public Company:

Verizon Communications

With a close of $45.53 on Friday, Oct. 12, Verizon Communications Inc. (NYSE: VZ) stock is up 33 percent for the last 12 months. We'll count that as a win.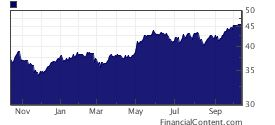 Verizon's solid financial results earned the first-ever A- on the Light Reading Carrier Scorecard. And the carrier is getting plenty of credit for the ongoing FiOS buildout -- although its subscriber figures recently came into question. (See Carrier Scorecard: Verizon Makes the Grade, At Age 2, Verizon FiOS Evolves), and Verizon Sued Over FiOS Figures.)

There's no question Verizon has set a tough standard for future winners in this category.


Best New Product, Public Company:

Juniper Networks' MX960

Analysts seem pleased as punch about the MX960, a box that finally propels Juniper Networks Inc. (NYSE: JNPR) into the high-density carrier Ethernet market and strengthens its IPTV story. (See Juniper Gains Ethernet Mojo.) The MX960 is still early in its life cycle, and, despite a couple of follow-up boxes announced, some think Juniper would benefit from a broader Ethernet portfolio that possibly includes demarcation gear. (See Juniper Expands MX.) Still, it's looking so far as if Juniper's scored a hit with this one.


Best New Service, Public Company:

AT&T's U-verse

After a rough start in 2006, U-Verse has picked up the pace to tally more than 100,000 subs. But most observers think U-Verse won't be able to keep up with future demand without relying heavily on advances in compression technology for high-def video. (See U-verse Picks Up the Pace and AT&T: We'll Have HD VOD Too.)

More bad news: AT&T Inc. (NYSE: T) has revised its U-verse estimates, making it more expensive by about $1 billion and less expansive by about 1 million homes passed. And neighborhoods are complaining about the unsightly remote terminals placed in front of people's homes. The emerging report that AT&T might make a bid for Echostar's DISH Network isn't comforting either. (See AT&T Lowers U-verse Goals Again and AT&T-EchoStar Rumor Returns .)


Best Marketing, Public Company:

Cisco Systems

The "Connected Life" got replaced by the "Human Network," but that doesn't invalidate Cisco Systems Inc. (Nasdaq: CSCO)'s marketing work last year. Rather, the company put a stronger consumer tilt on its message, trying to show how networks will affect you. A consumer ad blitz has Cisco getting closer to household-name status.

Meanwhile, Cisco has opened up a new marketing front by emphasizing the way Web 2.0 ideas can alter business strategies -- a message that's earned it another Leading Lights nod. (See Leading Lights Finalists .)


Best M&A Strategy, Public Company:

Level 3 Communications

It's possible Level 3 Communications Inc. (NYSE: LVLT) has bitten off more than it can chew. You'll recall the company was on a metro fiber rampage, and it's also become a content delivery network play by buying part of Savvis (Nasdaq: SVVS). (See Level 3 Buys Broadwing for $1.4B, Level 3 Takes TelCove, and Level 3 Spends $135M on Savvis CDN.)

But the growth Level 3 sought hasn't kicked in yet. And the stock, trading at $4.90 as of Oct. 12, is down 7 percent from a year ago.

Level 3 still has a good long-term story, as all that metro fiber puts it closer to the customer. That's important because, like Akamai Technologies Inc. (Nasdaq: AKAM), Level 3 depends more on edge caching than it does on speed of the backbone network. Getting the piece to work as a cohesive whole might take longer than expected, though.

Next Page: Private Company Award Winners