With annual sales north of $70 billion and more than 80,000 employees, ZTE Corp. (Shenzhen: 000063; Hong Kong: 0763) is one of the world's largest telecom equipment vendors, making almost everything from handsets to core routers. EANTC has been working with ZTE for several years now, almost exclusively in our Multiprotocol Label Switching (MPLS) and Carrier Ethernet multi-vendor interoperability events. Increasingly, we have been seeing ZTE's name appear in short lists for service provider tenders and Light Reading articles. As far as giants go, ZTE slowly and consistently made its way into the international arena and now stands tall amongst the international group of players in the service provider router and switch market. (See ZTE Increases Annual Sales by 17%.) We were not surprised when ZTE accepted our invitation to join the 100GbE test program, quickly prepared for the testing and hosted our team in their Nanjing facilities in China. Not only did the testing provide a unique insight into the quality of ZTE's core router, company character and dedication, it was also a pleasant opportunity to explore the Chinese culture and culinary delights.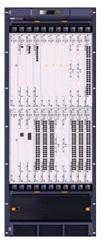 We were greeted by a competent team of engineers who were well-versed in core and edge routing/MPLS platforms, fueled by 100Gigabit Ethernet interfaces. The router brought forth by ZTE to the test was the ZXR10 M6000-16, a full rack router with two sets of 11 slots of which we only needed 6. The model names for the 10GbE and 100GbE cards respectively are 04XG-SFP+S and 01CGE-CFP-S, with Reflex Photonics Inc. 's LR4 CFP used in the 100GbE card.

ZTE explained that the ZXR10 M6000-16 configuration we tested is also marketed as a configuration of the ZXR10 T8000 using identical hardware and software. According to ZTE, the results presented in our article should fit both routers. As ZTE mentioned, if one would upgrade a previous version of the ZXR10 M6000-16 or T8000 to use 100GbE, one would need the interface itself and an updated switching fabric -- the current install base of chassis are otherwise prepared. For optics ZTE used Reflex Photonics LR4 CFPs, although they told us they are currently working on building their own. ZTE chipsets, ZTE optics, ZTE routers -- vertical integration to a degree you rarely see in this industry.