The latest salvo in the war of big 100-Gbit/s numbers leads off our latest update on all things 100 Gbit/s.


Brocade Communications Systems Inc. (Nasdaq: BRCD) introduced its new router, the MLXe, today, saying it doubles the MLX's backplane capacity to 15.4 Tbit/s and can support 480 Gbit/s per half-slot.

The star feature, though, is the 100-Gbit/s module -- the first to carry two wire-speed ports rather than just one, Brocade claims. That's 32 ports per chassis, a figure Brocade had spilled a few weeks ago. (See Brocade Goes 100G and Brocade Preps 100G Launch.)

The module costs about $195,000 -- or $97,500 per port, which compares with competitors' prices that go deep into six figures, by Brocade's calculations.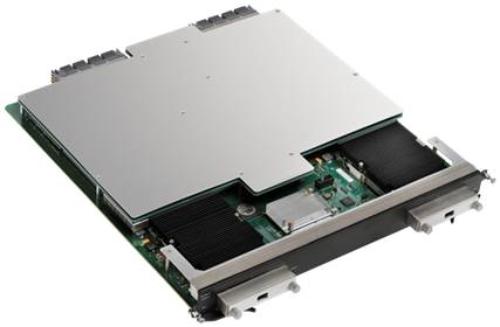 Brocade is also pushing its link aggregation abilities, saying the MLXe can combine 64 10-Gbit/s Ethernet ports into one virtual 640-Gbit/s link. The MLX's link-aggregation maximum had been 32 ports, and until now it's stood as Brocade's answer to the lack of a 100-Gbit/s interface. (See Foundry LAGs Ahead.)

Link aggregation could likewise be performed on 100-Gbit/s ports, says Ananda Rajagopal, Brocade's senior director of service provider products.


CRN Australia has published a handful of pictures from what was apparently a 100km, 100-Gbit/s test conducted in Melbourne. The carrier in question is Nextgen Networks Inc. , using Alcatel-Lucent (NYSE: ALU) gear. The photos are mildly interesting, not exactly what you'd call action shots.


European Advanced Networking Test Center AG (EANTC) has added some data to its massive test of the Cisco Systems Inc. (Nasdaq: CSCO) mobile core, including a 100-Gbit/s demonstration. Testing of the 100-Gbit/s interface on the CRS-3 was noted in August, with when the first part of the report was published. The detailed second part, includes a test of Cisco's Data Center Interconnect, where a 20-TByte transfer across CRS-3s is attempted. Hint: The ending isn't a surprise.


Speaking of non-surprises, the world is expecting a flood of 100-Gbit/s talk at next week's European Conference and Exhibition on Optical Communication (ECOC). We've already gotten two related press releases:

Other recent 100 Gbit/s-related snippets:

— Craig Matsumoto, West Coast Editor, Light Reading