The 10-Gbit/s Ethernet market has gotten off to a slow start. But now the market finally appears to be heating up, as the technology penetrates more markets, prices continue to fall, and companies start shipping true line rate products.

"The strongest growth in the Layer 2/3 switching market right now is in 10-Gbit/s Ethernet," says Neil Osipuk, an analyst with Infonetics Research Inc. "Even though the volumes are still relatively low, it's an important market to watch over the next 12 months."

The market has grown 77 percent since the first quarter of this year, according to Infonetics. Revenues jumped from $13 million in the first quarter to $23 million in the third quarter. Infonetics predicts that the technology will generate $82 million by the end of the year. While this is small beans compared to the overall Ethernet market, which is expected to total $11.8 billion by year's end, it's still strong growth.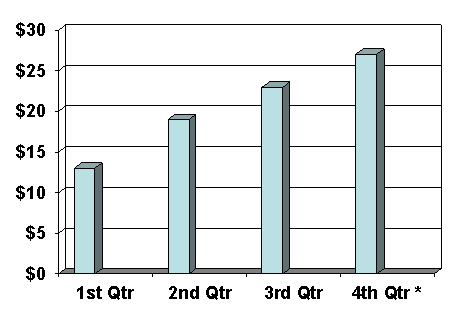 Up to this point, the 10-Gbit/s Ethernet market has been mostly confined to supercomputing and research applications. But demand is growing within high-end enterprise customers looking for high-speed solutions to drive their data center migrations.

New growth areas for 10-Gbit/s Ethernet will likely benefit the three big Ethernet switching companies -- Cisco Systems Inc. (Nasdaq: CSCO), Extreme Networks Inc. (Nasdaq: EXTR), and Foundry Networks Inc. (Nasdaq: FDRY) -- as they roll out their next-generation products that forward traffic at full 10-Gbit/s speeds. These players currently dominate the 10-Gbit/s Ethernet market with older solutions, which typically only forward traffic at 8-Gbit/s (see 10-Gigabit Ethernet Switches and Routers).

According to Infonetics, Foundry surpassed Cisco for the top spot with 45 percent of the market in the third quarter, both in terms of ports shipped and revenues. Cisco slipped to second place with about 40 percent. Extreme trailed with about 4 percent of the market. Force10 Networks Inc., the major private company in the market, did not report specific port numbers or revenues for the quarter, but the company has stated that it has sold about 200 10-Gbit/s Ethernet ports since last year.

Force 10 is trying to differentiate itself from the traditional Ethernet vendors by going after higher performance and delivering fault-tolerant features with a dual-processing chip architecture. Although it initially focused on research projects and supercomputing applications, the company is now targeting the corporate data center. It recently introduced a smaller box, called the E300, to address this market (see Force10 Shrinks 10 Gbit/s Switch ).

The traditional Ethernet switch vendors are already starting to introduce their new products into the market. Foundry recognized revenue from its first 10-Gbit/s line-rate solution, the BigIron MG3, in the third quarter (see Foundry Revenues Are Up). It expects to see revenues from the service provider version of the switch, the NetIron 40G, in the fourth quarter. Cisco began selling its new supervisor 720 for the Catalyst 6500 this summer. It will begin shipping its two-port line card, which forwards at full line rate on both ports, this spring. And Extreme is also preparing to roll out its new 10-Gbit/s platform, codenamed Mariner, this December (see 10-Gigabit Ethernet Switches and Routers).

Prices also continue to fall in the 10-Gbit/s Ethernet market, which should help spur adoption. In the past year, prices have come down about 50 percent, according to Infonetics. Today's average price for a 10-Gbit/s Ethernet port is about $18,000 to $20,000, compared to an average of $38,000 to $40,000 in the first quarter of this year.

But prices aren't falling fast enough to initiate mass 10-Gbit/s Ethernet deployments anytime soon, says Rachna Ahlawat, principal analyst at Gartner Inc. The average 1-Gbit/s port sells for about $380. For 10-Gbit/s to hit the mainstream, it would have to be economical for customers to buy one 10-Gbit/s port rather than aggregating multiple 1-Gbit/s ports together. In other words, the price of 10-Gbit/s Ethernet ports would need to drop to, at most, $3800 per port.

"In general, Ethernet port prices will continue to come down," she says. "But it won't be enough to entice customers to upgrade to 10-Gbit/s. I think most of the near-term opportunity for 10-Gbit/s Ethernet remains in niche markets like data centers, where high performance is necessary."

— Marguerite Reardon, Senior Editor, Light Reading