10/27/2003

Comment (7)

Swedish vendor LM Ericsson (Nasdaq: ERICY) has been flagged as a potential major force in the Code Division Multiple Access (CDMA) infrastructure market by the latest Unstrung Insider report, bringing further cheer to the company just days before it expects to post a long-awaited quarterly profit.

According to Unstrung's monthly subscription-based Insider report -- CDMA Networks: Full Speed Ahead -- Ericsson's performance in the CDMA market has been "significantly better than most analysts and market participants had anticipated," with the vendor set to possibly challenge Motorola Inc. (NYSE: MOT) for third-place status (see chart below).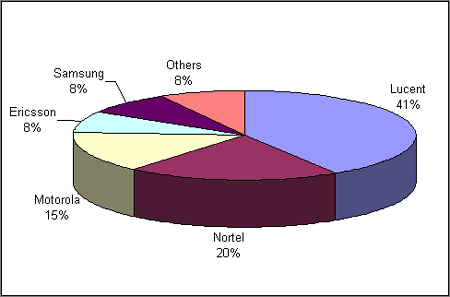 Ericsson is traditionally associated with the European-backed GSM (Global System for Mobile communications) and UMTS (Universal Mobile Telecommunications Service) sectors, where it enjoys a market-leading position. UMTS is the 3G upgrade to the GSM standard, using a wideband-CDMA air interface on top of the GSM core network to increase voice capacity and boost data-transfer speeds to a potential 2 Mbit/s.

The vendor turned heads last year, however, by declaring its intention to win a top three place and 15 percent market share in the rival CDMA business. A "spread spectrum," digital, cellular, air interface technology mainly used in the U.S. and South Korea, CDMA operates in the 800MHz band and 1.9GHz PCS band and supports data transfer speeds between 14.4 kbit/sand about 2 Mbit/s (in its latest third-generation variants).

"A year on, it seems that Ericsson is now the vendor most likely to overtake Motorola," says report author Gabriel Brown. "The real surprise is the speed at which Ericsson has emerged as a serious player in the CDMA infrastructure market. The market leaders cannot afford a moment's complacency."

Brown believes that such success can be attributed to Ericsson's ability to transfer much of the technology and hardware platforms developed for its much larger UMTS business to the CDMA market. The vendor has also helped reduce its costs by striking a partnership with fellow CDMA player Airvana Inc.

"As a result, Ericsson is now offering the latest-generation CDMA technology and starting to pick up contracts around the world, especially in emerging markets," adds Brown (see Ericsson Wins in Ecuador, Ericsson Does Kazakh CDMA, and Ericsson Secures Nigerian Win).

Ericsson's CDMA fortunes mirror a turnaround in overall company performance. The business is expected to report an adjusted pre-tax profit of around $66 million in its third-quarter results due Thursday, following a miserable three years of massive restructuring and gloomy financials (see Ericsson Rebuilds Exec Team and Ericsson Spirals Downward).

[Ed note: Nortel Networks Corp. (NYSE/Toronto: NT), Ericsson, and Samsung Corp. do not publicly reveal data about sales of CDMA equipment.]

— Justin Springham, Senior Editor, Europe, Unstrung

The report -- CDMA Networks: Full Speed Ahead -- costs $400. An annual subscription to the Insider is ordinarily $1,250, but is currently available at the special introductory price of $899. For more information, including subscription information and research examples, go to: Unstrung Insider.



(7) |