Enterprise users are hungry for new Ethernet services, but they expect top-notch features and bandwidth at aggressive price points, according to the results of an extensive survey of large enterprises from Heavy Reading, Light Reading's research service. The new report, "2004 Enterprise User Survey on Ethernet Services," details the opinions and demands of more than 300 business users around the world. The users were surveyed on their general demand for Ethernet services, their ratings of various services and features, their likes and dislikes, and their technical and business needs and considerations.

While the report finds there's plenty of demand to be tapped, there are some drawbacks for the service providers. Barrier one: Enterprise users might be eager to extend their Ethernet capabilities outside their LANs, but they're expecting many premium features and high capacity for bargain prices.

For example, only 30 percent of those enterprises surveyed are willing to pay extra for managed protection, and more than 60 percent believe that service should be provided for free.

The same applies to quality-of-service guarantees: The customers want it, but more than 40 percent of those enterprise managers currently using or planning to use Ethernet services aren't willing to pay more than a 10 percent premium for guaranteed QOS, and another 32 percent aren't willing to pay anything.

The big question for the carriers is how to deliver on this emerging demand and still harvest a reasonable profit margin.

Despite these challenges, the market looks to be too important to ignore. The survey reveals that the Ethernet services market may be advancing even more rapidly than service providers think. There is a high percentage of enterprises already using, or planning to use, Ethernet services, as shown in the chart below.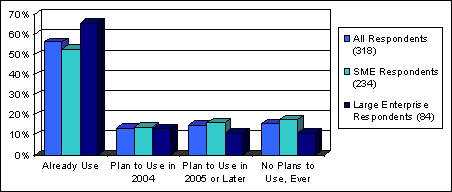 The survey finds that despite the tough pricing environment, service providers may have no choice but to play in the Ethernet services market aggressively.

Why is that? The survey indicates that businesses clearly want the stuff, and demand is building. But more importantly, it looks as if Ethernet services provide a key opportunity to break into the explosive but often elusive small and medium-sized business (SMB) market (for example, see MCI Europe's Slippery Strategy). More than 80 percent of respondents with fewer than 500 employees said they already use, or plan to use, carrier-delivered Ethernet services.

Heavy Reading's chief technologist Geoff Bennett, the lead analyst involved in the report, says that an "expectation gap" is almost inevitable in an immature market that has advanced quickly on the promise of "value."

"Enterprises have been told for a long time that wide-area Ethernet services are going to be just as cheap as their LAN deployments," says Bennett. "But we're into carrier-grade service territory now, and providing QOS and network resiliency doesn't come cheap -- and the carriers can't afford not to charge a premium. It will be interesting to see what happens as user expectations meet the realities of the carrier cost base."

Even so, says Bennett, Ethernet still offers the most cost-effective solution now available for both carriers and their enterprise users. But that hasn't been enough to tempt everyone to sign up to the Ethernet supporters' club: Some enterprise users aren't interested at all.

More than 15 percent of all respondents, and nearly 11 percent of large enterprises, have no plans to use carrier-delivered Ethernet services at all. Ever. Nada. So what's their beef? The main reason is that their existing services meet their needs (64.3 percent), while more than 30 percent have security concerns. Other deterrents include a lack of proven cost savings and the perceived high initial cost of deployment.

The report's findings are based on the responses of 319 enterprise managers who are personally involved in specifying, purchasing, or administering communications services for their organizations, but do not work for a telecom service provider. They work at more than 200 different enterprises in more than 25 different sectors. The majority of the respondents work for companies with fewer than 100 employees, while 10.9 percent work for firms with 5,000 or more on staff.

The report is available now. More details may be found here.

— Ray Le Maistre, International News Editor, Light Reading