LOS ANGELES -- Open Networking Summit -- Network engineers are often also musicians, says Ticketmaster Principal Architect Francis Arigo, opening his keynote address by literally singing a song, accompanying himself on the guitar.
"I've been a network engineer for a number of years. One thing I've noticed is how many network engineers are also musicians," Arigo said Thursday.
The reason, he thinks: Timing is critical to both networks and music. "The reason that network engineers are often good engineers is because we've been subnetting all our lives," he said.
And then he launched into song: "The Public Cloud Song," sung to the tune of Tracy Chapman's "Fast Car."
Unfortunately, we don't have a recording. But here's what it looked like: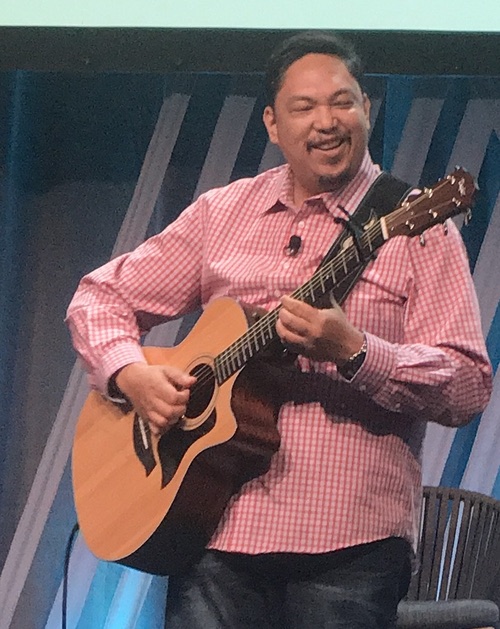 And here's a wide-angle shot, showing the lyrics.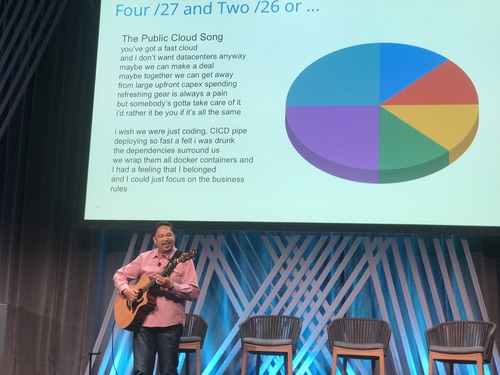 ---
Boost your knowledge of cloud-native software and innovations driving data center transformations! Join us in Austin at the fifth-annual Big Communications Event May 14-16. The event is free for communications service providers -- secure your seat today!
---
"That was the theme song at Ticketmaster when we started our journey to hybrid cloud," Arigo said. The company initially hoped to shutter its data centers and go to public cloud. But that proved impractical. For more on that, see: Ticketmaster: 'Self-Inflicted DDoS' Is Our Business.
Arigo's song reminds us of this thing that happened at a recent Dell EMC World: Dude Plays 'Bohemian Rhapsody' on Weird Homemade Marimba at Dell EMC World
Related posts:
— Mitch Wagner




Editor, Enterprise Cloud, Light Reading