US Energy Department Aims for Exascale

Comment (1)
The US Department of Energy is planning to use the lure of millions of dollars in federal grants to kick the era of exascale computing into high gear, which could have wide-ranging implications for cloud computing, artificial intelligence and other research developments.
The authority granted $258 million to six tech companies to develop exascale systems: IBM, AMD, Intel, Cray, Hewlett Packard Enterprise and Nvidia. These companies also plan to invest about 40% of their own money in the project, bringing the total to $430 million over a three-year period.
The goal is to create at least one exascale supercomputer by 2021.
The grants were made as part of the Department of Energy's Exascale Computing Project (ECP), which is also part of PathForward, and which has been attempting to accelerate the development of exascale supercomputers and other high-performance computing systems.
"These awards will enable leading U.S. technology firms to marshal their formidable skills, expertise, and resources in the global race for the next stage in supercomputing -- exascale-capable systems," Secretary of Energy Rick Perry wrote in a June 15 statement.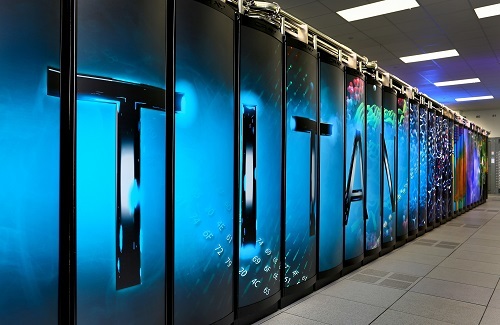 For a number of years exascale has been considered the next great leap in supercomputing. An exascale system would be able to handle a billion billion calculations a second, or one exaFLOPs. By comparison, a petascale system, which was introduced about ten years ago, can process one quadrillion floating point calculations per second, or a million billion.
---
M&A activity is turning the cloud upside down. Find out what you need to know in our special report: Mergers, Acquisitions & IPOs Are Rocking the Cloud.
---
These types of HPC (high-perfomance computing) systems and supercomputers are used for a variety of national security, energy and scientific research projects, but also expand the types of technologies enterprises are interested in as well, including AI, big data, analytics and, of course, cloud.
On the same day the Department of Energy announced its grants, Japan unveiled it would build a 130 petaflop machine to help with AI and machine-learning research, according to CNN.
Supercomputing itself is headed into the cloud, with Cray announcing earlier this year that it would offer its Urika-GX supercomputer as a service that businesses and research group could tap into without buying a whole system.
The Department of Energy's grants also have a bit of national pride behind the scenes. Currently, China has the number one and two systems on the Top 500 supercomputer list, with the top supercomputer, which is installed at the National Supercomputing Center in Wuxi, China, running at about 93 petaflops. The US has the Number 3 supercomputer -- the Titan systems at the Oak Ridge National Laboratory in Tennessee -- and holds five of the 10 top spots.
The mission to build the an exascale supercomputer would push the US back into the number one spot.
Related posts:
— Scott Ferguson, Editor, Enterprise Cloud News. Follow him on Twitter @sferguson_LR.