Oracle is stepping in to help enterprises solve the surprisingly gnarly problem of figuring out who does what in an enterprise.
Tracking which groups and business units fit in which parts of the organization can be surprisingly difficult. And it's important for regulatory reporting, financial reconciliations, mergers and acquisitions, company reorganizations and many other business needs.
Oracle Corp. (Nasdaq: ORCL) is looking to help solve that problem with Oracle Enterprise Data Management Cloud, introduced Tuesday as part of Oracle Enterprise Performance Management (EPM) Cloud.
"Think of it as a hub for managing structured data -- metadata -- about the enterprise," Hari Sankar, Oracle group vice president of EPM product management, tells Enterprise Cloud News. The platform tracks cost centers, management hierarchies and other metadata about how the enterprise is organized.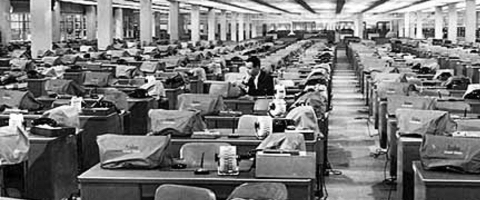 ---
You're invited to attend Light Reading's Big Communications Event  -- the one event that delivers fresh perspective on the rapid transformation of the telecom industry and the road ahead. We'll see you May 14-16 in Austin -- communications service providers get in free!
---
The service helps enterprise track changes when it adds a new department, expands into a new geography or make transformation changes such as acquiring a new company or spinning off some part of the business.
Cloud adoption, mergers and acquisitions, reorganization and restructuring can create data inconsistencies requiring finance teams to reconcile disparate data sets and associated metadata, Oracle said in a statement. These changes are often handled manually today, through spreadsheets, emails and in-person meetings.
Oracle Enterprise Data Management Cloud looks to streamline that process with a centralized service to eliminate manual errors and inconsistencies and create a single view of all enterprise data, Oracle says.
Oracle claims its Enterprise Data Management Cloud service can speed up cloud adoption; increase business agility by modeling M&A scenarios, reorganizations and restructuring; and provide a system of reference for all enterprise data.
Enterprise Data Management Cloud also helps organizations align cost centers, revenue and spending.
"You might say you spent $200 million on manufacturing, but you don't want to be asking what cost centers roll up into that bucket -- one person might say 23 cost centers, another might say 25," Sankar says. Enterprise Data Management Cloud is designed to answer questions like that.
Sankar adds, "What makes it interesting and challenging is you're not just talking about on-premises applications, you're talking about cloud applications. Having a common hub for this data makes it easy to migrate to the cloud, or do transformational things like acquiring new companies and absorbing their functions quickly."
The service is designed to interface with financial applications, enterprise resource planning systems and analytics.
Related posts:
— Mitch Wagner




Editor, Enterprise Cloud News