Hewlett Packard Enterprise is looking to boldly send a supercomputer to where no high-performance computer system has gone before.
As Elon Musk's SpaceX gets ready to launch its Dragon spaceship on August 14 for a resupply mission to the International Space Station, the rocket will take with it a supercomputer developed by HPE and NASA that will test the limits of how an HPC system will handle the rigors of space travel and how well it will conduct research from the outer limits.
Over the past year, HPE and NASA have worked to develop the Spaceborne Computer. It's what the company calls a high performance commercial off-the-shelf (COTS) computer system, and for the next 12 months, astronauts will conduct experiments with it at the ISS.
The ultimate goal is to see if the Spacebrone can handle the rigors of traveling to Mars.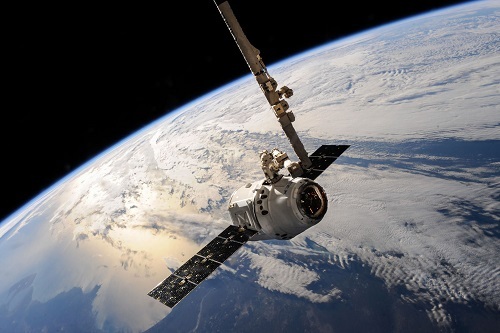 "We built the Spaceborne Computer to live for a year on the International Space Station -- roughly the same amount of time it would take for a rocket to reach Mars," HPE CEO Meg Whitman wrote in a LinkedIn post Friday.
Right now, most computing is done on Earth and transmitted either to a space shuttle or the ISS. That works well in low-orbit situation, but Mars is nearly 34 million miles from Earth, which means sending and receive information from standard computer systems could take up to 40 minutes, according to HPE.
By moving a supercomputer to the ISS, HPE and NASA will determine if such a system can handle the pressures or being in space, as well as if it can reduce some of the latency between the system and astronauts on missions to deeper space.
The Spaceborne Computer is made up of HPE's Apollo 40 class systems, a series of high-density server racks that house the compute, storage and networking, much like a hyperconverged, cloud computing system. HPE Apollo is typically used for data analytics, object storage and HPC.
---
Keep up with the latest enterprise cloud news and insights. Sign up for the weekly Enterprise Cloud News newsletter.
---
The supercomputer also includes a high-speed interconnect and runs a specialized Linux operating system. There's also a specially-designed water-cooling system for the hardware, and HPE "ruggedized" the system to withstand radiation, solar flares and other hazards of space travel.
"Future phases of this experiment will eventually involve sending other new technologies and advanced computing systems, like Memory-Driven Computing, to the ISS once we learn more about how the Spaceborne Computer reacts in space," Alain Andreoli senior vice president and general manager of HPE's Data Center Infrastructure Group, wrote in an August 11 blog post.
The SpaceX Dragon is scheduled to take off from the Kennedy Space Center in Florida on Monday, August 14. HPE, through its SGI acquisition, has a 30-year relationship with NASA, according to the company.
Related posts:
— Scott Ferguson, Editor, Enterprise Cloud News. Follow him on Twitter @sferguson_LR.