Cloud and related technologies are driving an Infosys plan to bring 10,000 tech jobs to the US, in the face of criticism from President Donald Trump that Infosys and other outsourcing firms are taking jobs from Americans.
The Indian consulting and services company says it plans to hire 10,000 American workers over the next two years, opening four new technology and innovation hubs in the country "focusing on cutting edge technology areas, including artificial intelligence, machine learning, user experience, emerging digital technologies, cloud, and big data," according to a statement from Infosys Tuesday.
The hubs will serve clients in key industries such as financial services, manufacturing, healthcare, retail and energy, Infosys says. The first hub, which will open in Indiana in August, is expected to create 2,000 jobs by 2021 for US workers and will help boost Indiana's economy, Infosys said.
Trump made jobs a driver of his election campaign and presidency. And Indiana is the home state of Vice President Mike Pence.
Infosys will hire experienced technology professionals and recent graduates from major universities, and local and community colleges, as well as providing training programs in key competencies such as user experience, cloud, artificial intelligence, big data, and core technologies and computer science skills, the company said.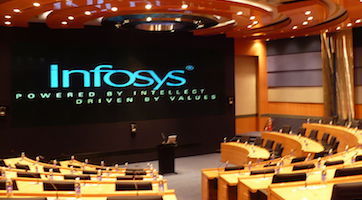 Infosys previously set up an innovation hub in Silicon Valley, the company said. It provides charitable computer training and classroom equipment in the US through its foundation, Infosys Foundation USA, for more than 134,000 students, over 2,500 teachers, and nearly 2,500 schools.
Trump has criticized Infosys and other outsourcing firms for unfairly taking jobs from US workers. Last month, Trump signed an executive order to overhaul the work visa program that Infosys and other firms use to bring overseas workers to the US. (See Trump Administration Targets H-1B Visa Fraud.)
Related posts:
— Mitch Wagner
Editor, Enterprise Cloud News