Cisco is adding an extra layer to its Tetration Analytics platform that will give IT departments the ability to set security policies and other parameters for applications, whether those apps reside in the cloud or within traditional enterprise data centers.
The feature, which Cisco is calling "application segmentation," is rolling out the week of April 1 as part of the Tetration platform, which the company introduced in 2016. The technology comprises hardware and software that can run within virtual machines, bare metal servers and clouds regardless of the routers, switches and other equipment in use.
The idea of Tetration platform is to give IT departments a deeper look at the data center and infrastructure, instead of the information that can be gleaned from the edges of the network. The machine learning incorporated in the platform allows it to monitor billion of pieces of data within a few second instead of sampling a small portion of the network traffic.
Yogesh Kaushik, senior director, product management for Cisco, said in an interview that the new application segmentation feature addresses the "who" and "how" of managing applications in the cloud.
Specifically, it lets the IT department enforce policies on applications, even if the applications move. For example, an IT manager can set a policy where a financial application will only talk to a financial database, or, if a server is located in Germany or China, a policy can be created that will keep that data within that particular country. This is Cisco's take on micro-segmentation, which allows workload segmentation and a layer of security.
The update to Tetration also takes a page from social networks with a notification system to let managers know if there have been no policies added or if one is going to be changed, Kaushik said.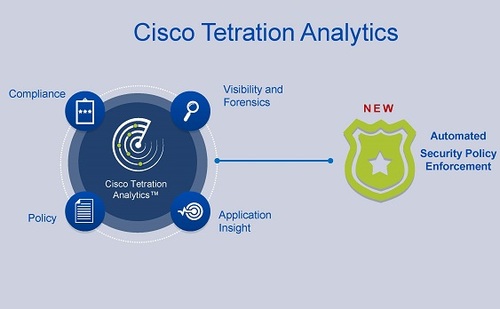 With the April update, Tetration looks to solve two of the main problems that face modern infrastructure and data centers. The first is security and making sure applications are protected, especially as they move around the infrastructure. The other is DevOps, which is speeding up the development times of apps to meet the needs of business. However, sometimes speed puts security at risk, especially as applications move from test to production.
"There's a tug of war behind how agile you want to be and a how secure you want to be," said Kaushik.
When Cisco launched Tetration it included features for policy compliance, application forensics and security whitelists. Tetration also works across all different types of infrastructures, including public, private and hybrid clouds, as well as virtual machines and bare metal servers. (See Cisco Launches Data Center Analytics for Obsessives.)
This fits with Cisco's goal of offering a wide variety of services that work across multiple platforms, as well as clouds. It's also part of the company's new emphasis on software and analytics as it moves away from traditional hardware sales of routers and switches. (See Cisco's Ahuja Quits as Robbins Revamps His Top Team.)
Earlier this month, Cisco announced its $3.7 billion aqcuisition of AppDynamics, which gives Cisco yet another way to analyze and manage data for clients. (See Cisco's AppDynamics Deal Goes Beyond Cloud.)
In addition to the new policy features, Cisco is launching Tetration-M, a small-scale version of the platform that can work with deployments up to 1,000 workloads. Finally, the company is offering Tetration Cloud, an appliance that works within Amazon Web Services, and is designed to work with up to 1,000 workloads.
— Scott Ferguson, Editor, Enterprise Cloud. Follow him on Twitter @sferguson_LR.
---
CALLING ALL CLOUD, NFV AND SDN COMPANIES: Make sure your company and services are listed free of charge at Virtuapedia, the comprehensive set of searchable databases covering the companies, products, industry organizations and people that are directly involved in defining and shaping the virtualization industry.
---