Arista Weaves Security Blanket Over Data Center, Campus and Cloud
Arista is taking a big step in its march to becoming a full-service networking vendor, adding security to its portfolio. More precisely: Arista has always provided security in its products, but now the company is expanding its offerings to the campus and cloud, and making more of a point of talking about its security vision, the company announced Tuesday.
"Security has always been fundamental to us but it hasn't always had a spotlight focused on it," Jeff Raymond, Arista Networks Inc. vice president of EOS products and services, tells Light Reading. (EOS is the operating system Arista runs across its physical and virtual switches.)
Historically, Arista has been a data center networking and interconnect company, focused on switching, programmability, telemetry and automation. Now the company is adding routing to its toolbox and expanding beyond the data center to the public cloud and into campus networking as part of an initiative launched in May (without a lot of fanfare). As part of that expansion, Arista this month bought Mojo Networks, which specializes in WiFi network management. (See Arista Finds Its Campus Mojo.)
Traditional networking has required different equipment, software and security in different locations, including the core network, cloud and campus, Raymond says. (Hint: Whenever a networking vendor that's not Cisco takes a dig at traditional networking, it's talking about Cisco.)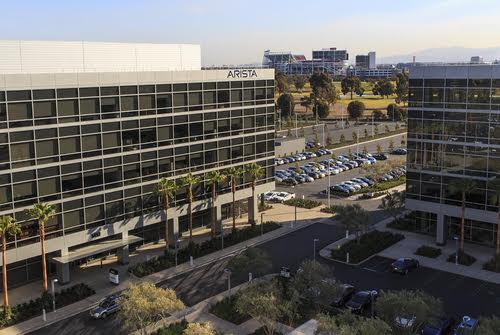 ---
Now entering its fifth year, the 2020 Vision Executive Summit is an exclusive meeting of global CSP executives focused on navigating the disruptive forces at work in telecom today. Join us in Lisbon on December 4-6 to meet with fellow experts as we define the future of next-gen communications and how to make it profitable.
---
Arista, in contrast, offers its uniform networking software and architecture on both physical and virtual equipment, spanning the core, campus and cloud networks. Arista calls this philosophy "Places in the Cloud".
Now, Arista is extending that philosophy to security, providing uniform security tools across the network. "The security challenge is great enough as is, but when you have to tackle it with myriad siloed tools it becomes more challenging for enterprise customers," Raymond says.
Arista is making three announcements. First, it's launching microsegmentation in partnership with VMware Inc. (NYSE: VMW). Arista will support VMware's NSX, to enable network operators to provide policies on virtual workloads, using NSX, or physical workloads running on bare metal servers, mainframes, storage arrays and Arista's top-of-rack switches. The security can be administered through Arista's CloudVision.
VMware plans next week to announce a strategy to improve network performance and security by combining network and application awareness in a strategy it's calling Microsegmentation 2.0. (See How VMware Plans to Put the Screws on Cisco.)
Arista is extending Zone Segmentation Security for its vEOS router product, a virtual router running EOS that runs on Amazon Web Services Inc. , Microsoft Azure and Google Cloud. The extension allows network operators to provide the same policies across Arista networks and virtual networks running on the public cloud, Raymond said. "In addition to being cloud agnostic, it can be coordinated through CloudVision, so you have a common management platform both on-premises and in the cloud to manage zone segmentation rules." (See Arista Slashes Cloud Networking Complications.)
And Arista is extending security to the client device in partnership with Zscaler, to help network operators secure cloud apps.
Secondly, Arista is providing tools for compliance and auditing, via the CloudVision Compliance Dashboard, allowing operators to create an inventory of their switching and routing devices to ensure their software is up to date and not carrying known vulnerabilities. That's a big job for large estates, and Arista is automating that process with CloudVision.
Third, Arista is adding encryption capabilities to its mainstream data center interconnect products. It is providing new encryption options for its 7280 platform with MACsec for Data Center Interconnect and 7020R platform with IPSec enterprise WAN.
Arista's primary competitor in its new security push -- and in all things -- is Cisco Systems Inc. (Nasdaq: CSCO), which has declared security a strategic priority. Juniper is also making a security push. (See Cisco Automates Security in 'Any Data Center & for Any Cloud', Juniper Snapping Up Cyphort for Security and Cisco & Juniper Heat Up Cloud Security Feud.)
— Mitch Wagner




Executive Editor, Light Reading
PARTNER PERSPECTIVES
- content from our sponsors