Apple Hugs Cisco in Big Enterprise Push
LAS VEGAS -- Apple put an end to the arms'-length relationship it's had with the enterprise on Monday, with CEO Tim Cook literally hugging Cisco CEO Chuck Robbins on stage during the opening keynote at Cisco Live.
The two companies are making a play for enterprise business by positioning themselves as the secure choice in an increasingly dangerous world.
The appearance by Apple on stage at Cisco's big annual customer event is, quite possibly, an unprecedented moment. Apple doesn't take the stage at other companies' marketing events. Other companies come to Apple's events -- if they're lucky.
But for Apple Inc. (Nasdaq: AAPL) and Cisco, it was the culmination of a low-key partnership and a recognition that Apple isn't treating the enterprise with benign neglect anymore; it's actively courting enterprise business.
Apple has traditionally targeted consumers, and relied on consumers to bring iPhones, Macs and iPads into the workplace. Although it's done some enterprise business, that's always been a sideline for Apple.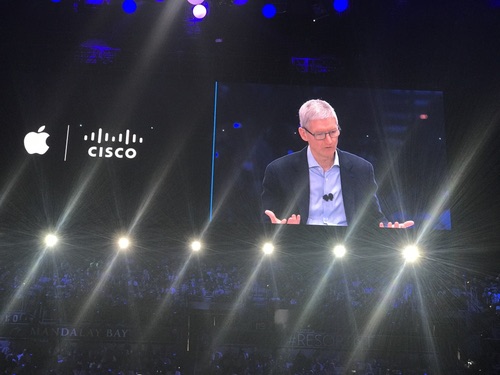 Robbins took note of that history as he introduced Cook to Cisco Live attendees.
Cook said Apple sees the enterprise as an extension of Apple's business model and philosophy.
"For those of you that have known Apple a long time, the whole premise of the company is to make products that change the world and improve things," Cook said.
Enterprises spend large sums on IT, "but when you looked at the user experience it wasn't very good, so we thought we could bring Apple's legendary ease of use and simplicity to the enterprise and really change the way people work," Cook said.
Apple controls the device "from silicon to software," which provides the enhanced security enterprises need in today's dangerous environment, Cook said.
"We share your belief that silicon provides value," Robbins told Cook. Like Apple with its devices, Cisco provides custom silicon for its switches and routers, swimming against the stream of the networking industry's trend to white boxes and merchant silicon.
"Together we make the most secure combination of anybody in the enterprise," Cook said.
Cook hinted that the two companies are working to give a break on the cost of cybersecurity insurance for companies that use Apple and Cisco devices.
"Your company should reap the benefit because you are safer," Cook said. "There will be more on that coming out."
And that was when Cook literally hugged Robbins as Cook left the stage. It wasn't a great big hug -- just a couple of California men flopping their arms over each other's shoulders -- but it was an actual hug.
Prior to the embrace, Cook reviewed enhancements introduced to iOS this month to improve its user interface for people looking to use their iPads for work. (See Apple Tunes Up Siri & Cloud Services.)
Apple and Cisco are partnering to provide a "fast lane" for Apple devices on Cisco networks to allow users to prioritize business over over traffic, Cook noted. The two companies recently extended the fast lane capabilities, which previously supported iPads and iPhones, to also support Macs. (See Apple & Cisco Plot an Enterprise Fast Lane.)
---
Keep up with the latest enterprise cloud news and insights. Sign up for the weekly Enterprise Cloud News newsletter.
---
Apple and Cisco share a common philosophy in their relationship with customers: Both companies are saying customers should give over control of technology to the vendor (Apple or Cisco). In exchange the customer won't have to worry about complexity and security and can just get on with the business of doing business.
The Apple-Cisco relationship isn't exclusive. SAP announced an Apple partnership in February, partnering on iPad and iPhone endpoint applications as well as several new cloud services. (See SAP Floats Apple Partnership, New Cloud Services.)
And IBM and Apple partnered in 2014, marrying IBM's enterprise expertise with iPhones and iPads in 100 apps for vertical industries, following up last year with IBM support for Apple's Swift programming language in the cloud. (See Analytics, Security Key to Apple, IBM Tie-Up and IBM, Apple Tie-Up Moving Into Cloud.)
Related posts:
— Mitch Wagner
Editor, Enterprise Cloud News
---
CALLING ALL CLOUD, NFV AND SDN COMPANIES: Make sure your company and services are listed free of charge at Virtuapedia, the comprehensive set of searchable databases covering the companies, products, industry organizations and people that are directly involved in defining and shaping the virtualization industry.
---