The network has been a drag on the cloud's mission of making hardware irrelevant. With the cloud, you don't have to worry about where workloads run -- hardware becomes the cloud provider's headache.
But networking is the problem. Information still needs hardware to move from one place to the next, and some of that hardware has to be located on the enterprise premises, where it needs to be installed, powered and maintained.
That's a particular problem in enterprises that rely on far-flung branch locations, like retailers, healthcare providers and banks. Branch locations often don't have IT staff, and yet they need customer premises equipment (CPE) to maintain network connections to vital cloud applications, as well as other enterprise locations, customers and partners.
Versa Networks launched in 2015 with a mission to do for wide-area network connections what the cloud did for compute and storage. A study from Dimensional Research found that 44% of enterprises have more than ten physical network and security devices at a branch location, with 22% having six to ten devices, according to Versa. On-premises networking hardware can't be eliminated, but the burden can be minimized. Versa's vision is that the branch could run simple, generic x86 box hardware, with networking intelligence running in the cloud. (See Startup Versa Announces 'Carrier-Grade' Multi-Tenant NFV Platform.)
Versa started providing virtualized SD-WAN, and this month launched the next phase of its vision, which it is calling SD-Branch.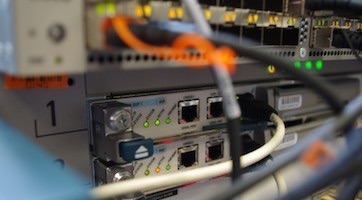 "We're going to help accelerate the adoption of cloud and SaaS applications in a multicloud environment by simplifying their WAN and security architecture," Versa CEO Kelly Ahuja tells Enterprise Cloud News. (See Ahuja's Next Chapter Is Versa.)
Versa's Cloud IP Platform requires a single device on enterprise premises, replacing the proliferation of devices appliances at at each branch location, the company says.
The Cloud IP Platform, announced May 10, provides Layer 3 to Layer 7 IP services, and can host third-party virtual network functions (VNFs) from partners including Fortinet, Avaya and Riverbed, with integrated WiFi and Ethernet switching, embedded LTE, and malware security.
---
What are the hottest jobs in the cloud? Get our special report to find out:
Cloud Skills: What's Hot?
---
"We're continuing to convert the crud and sprawl on the network to software," says Mark Weiner, Versa chief marketing officer.
The software can run on a private cloud in a data center, on bare metal, OpenStack, VMware or containerized. And it can also run in the Amazon Web Services or Microsoft Azure public cloud.
The new service from Versa comes as the SD-WAN market heats up. The SD-WAN will hit $2.9 billion by 2021, according to an analyst report. (See SD-WAN Market Soaring to Nearly $3B, Report Finds.)
Cisco kicked off this month by launching Viptela, adding a third SD-WAN service to its portfolio. (See Cisco Looks to $610M Viptela Acquisition to Simplify SD-WAN.
And Riverbed bought WiFi and networking specialist Xirrus last month. (See Riverbed Buys Xirrus to Bolster SD-WAN Offering .)
Related posts:
— Mitch Wagner
Editor, Enterprise Cloud News