As data center infrastructures get more sophisticated, enterprises are looking for new ways to ensure that applications traveling along these modern networks are performing as needed.
At the same time, DevOps and containers are changing the nature of applications as the enterprise designs cloud-native apps that are part of the digital transformation experience.
With the new release of its SteelCentral network performance platform, Riverbed is looking to address a number of these issues, including network performance, application performance, container monitoring and management and big data analytics.
These are part of what the company calls its digital experience management (DEM) platform, which is designed to optimize the network from the applications to the end-devices, while providing a holistic view of the network and the ability to troubleshoot.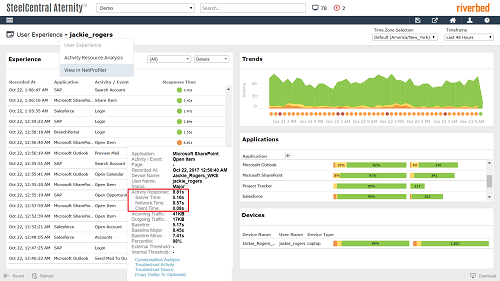 "What we are seeing is a higher expectation for performance," Erik Hille, the product marketing director of Riverbed, told Enterprise Cloud News prior to the November 2 announcement. "We see that 51% of end users have higher expectations for performance relative to one year ago. At the same time, companies really don't understand what is going on from the perspective of these new transformative services that are being introduced."
In Hille's view, what Riverbed offers that AppDynamics or NetScout doesn't is the holistic view of the entire enterprise, whether that's the cloud, the infrastructure, the end-user device or the applications. (See AppDynamics Complementing Cisco's Intent-Based Networking Vision.)
---
Keep up with the latest enterprise cloud news and insights. Sign up for the weekly Enterprise Cloud News newsletter.
---
At the same time the DEM and SteelCentral platforms offer insights and suggestions on how to improve performance.
The improvements that Riverbed is bringing to SteelCentral include:
Improved container monitoring and application performance troubleshooting to help during the DevOps cycle. Riverbed is also integrating its container management tool with orchestration platforms, including Kubernetes and Docker Swarm.
The ability to incorporate big data into digital transformation projects.
Integration between SteelCentral's Aternity feature, which monitors application performance and ServiceNow, which then produces a service ticket when performance is running low.
Finally, in order to capture network performance at greater speeds, the company is adding 40Gbit/s network interface cards (NIC) for some of its appliances.
In addition to the SteelCentral updates, Riverbed has signed a deal with Zscaler, which provides cloud-based security. The two companies plan to integrate Riverbed's SteelConnect SD-WAN products with Zscaler's cloud security platform, which should help protect data traveling on networks to and from branch offices and remote location.
All of the new products and features should be available by the end of 2017.
Related posts:
— Scott Ferguson, Editor, Enterprise Cloud News. Follow him on Twitter @sferguson_LR.