Oracle is to launch a free map of the global health of the Internet, to help enterprises that rely on cloud applications plan infrastructure deployment and troubleshoot problems.
The Oracle Internet Intelligence map provides users "with a simple, graphical way to track the health of the Internet and gain insight into the impact of events such as natural disasters or state-sponsored interruptions," Oracle said in a statement Wednesday.
The Oracle Internet Intelligence team is more than ten years old, and joined Oracle with the acquisition of Dyn, an Internet performance monitoring company and DNS provider, in 2016. Dyn previously published Internet health data occasionally, for major attacks and submarine cable breaks that led to widespread outages. Now, the information will be available continuously for free. (See Oracle Acquires Dyn.)
"The internet is the world's most important network, yet it is incredibly volatile," Kyle York, vice president of product strategy for Oracle Cloud Infrastructure and the general manager for its Dyn Global Business Unit, said in a statement. "Disruptions on the internet can affect companies, governments, and network operators in profound ways." These organizations "need better visibility into the health of the global internet." Oracle is looking to provide that information.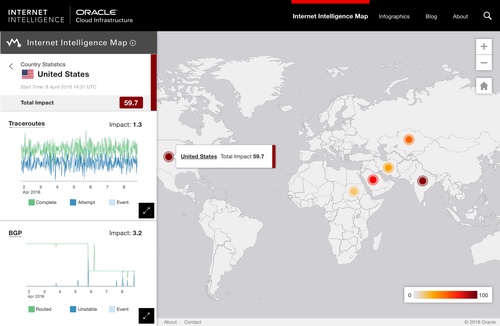 ---
Now entering its fifth year, the 2020 Vision Executive Summit is an exclusive meeting of global CSP executives focused on navigating the disruptive forces at work in telecom today. Join us in Lisbon on December 4-6 to meet with fellow experts as we define the future of next-gen communications and how to make it profitable.
---
York tells Light Reading, "We take the lid off the black box. It gives a really interesting view outside-in of how the Internet interconnects, how country-level and provider-level performance intersects."
The service is analogous to the way Google Maps displays traffic slowdowns on local highways, showing outages and slowdowns in Internet service worldwide. It's available free to network operators, journalists and anybody else who wants to get insights on worldwide internet performance, York says.
Oracle uses the same data to keep its own cloud services high-performance and reliable. Network operators can find the source of troubles and reduce finger-pointing. Operators can find out if a problem connecting remotely comes from the local network, or a service provider. "What's going on when a web page is slow and the page will not display," York said. The new Oracle services is designed to help answer that question. "You don't know where along the path the problem is."
Oracle is predominantly providing country-level connectivity issues across traceroutes, using a global sensor network of 350 locations globally in all the major markets. Additionally, the service displays BGP data paths and DNS query volumes. These three data sets provide a guide to traffic paths, carrier availability and latency and web traffic by carrier. The DNS volumes tell the operator whether the end user experience is performing well -- whether users are able to access websites, York says.
That's the free services. Enterprises can pay to get data sets they can use for analytics, as well as planning and troubleshooting tools. "We're giving the tip of the spear of the information," York says.
Related posts:
— Mitch Wagner




Executive Editor, Light Reading