Cisco Reports Strong Q1, but Service Provider Business Lags Growth
Cisco has reported a strong set of fiscal 2019 first-quarter numbers, with revenues up about 8% year-over-year to almost $13.1 billion and net income up by 48% year-on-year to $3.55 billion, beating Wall Street's expectations.
The sales hike was driven primarily by the vendor's enterprise customers, and that's reflected also in the product order statistics that Cisco provides for each quarter: Enterprise product orders were up 15% year-over-year, followed by public sector and commercial at 8% each, but service provider product orders were up by only 2%. Cisco defines commercial as small and midsized businesses, under about 1,000 employees. (See Cisco Reports $13.1B Q1 2019 Results, Revenues Up 8% YoY.)
Why the marked difference between enterprise and service provider growth? Cisco didn't give a complete explanation on its earnings call, although executives did say that enterprise sector growth was particularly strong, with two big deals bearing fruit in the quarter. Every product category and region is strong for Cisco's enterprise business, driven by demand for automation and SD-WAN solutions, the company said.
Executives on the call emphasized the positive side of the service provider market -- growth across all geographic regions, with big wins in Asia. Some of Cisco's service provider business comes from providers getting their networks ready for 5G, but Cisco expects it will be calendar 2020 until the industry sees "broad-based movement" to 5G, CEO Chuck Robbins said on the call.
Service provider product order growth was up 6% year-over-year in the previous quarter, when CEO Chuck Robbins noted that the service provider business was prone to fluctuating growth numbers due to the impact that a few very large customers can have on that line of business. (See Cisco: Service Provider Revenues Grow, but the 5G Bonanza Is Yet to Come.)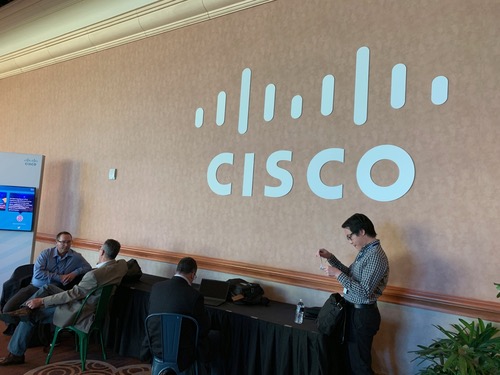 ---
Now entering its fifth year, the 2020 Vision Executive Summit is an exclusive meeting of global CSP executives focused on navigating the disruptive forces at work in telecom today. Join us in Lisbon on December 4-6 to meet with fellow experts as we define the future of next-gen communications and how to make it profitable.
---
"It is absolutely clear that the strategy and transformation that we laid out three years ago is working," Robbins said. That includes a transition from one-off product sales to recurring software licensing and service revenue, as well Cisco's "intent-based networking" strategy, for network automation, outlined last year.
Businesses are seeing an explosion in the numbers of connected devices, with an expectation of continuous connectivity; enterprises are moving to the cloud; and networking is becoming increasingly complex, which makes Cisco's integrated platform an attractive alternative to standalone products, Robbins said.
And the move to edge computing plays into that platform strength as well, Robbins said.
Cisco's competitors are also following an integrated platform strategy, most notably VMware, Juniper and Arista. (See How VMware Plans to Put the Screws on Cisco, Juniper Unveils Major Edge Cloud Push and Arista Finds Its Campus Mojo.)
Cisco cited strong growth in its Catalyst 9000 switch line, which leads Cisco's intent-based networking strategy, as well as unified security and SD-WAN as factors driving growth. (See Cisco Secures & Sweetens SD-WAN.)
By product segment: Infrastructure platforms are still Cisco's main business, including the emerging SD-WAN category as well as the company's workhorse switches and routers. Infrastructure platforms (which includes service provider routers) grew 9% year-over-year to $7.6 billion.
Applications, which includes WebEx collaboration, was up 18%, but it only makes up a small part of Cisco's revenue, $1.4 billion. Security is even smaller, $651 million, up 11%. And "other products," which includes at $178 million, is down 38%; that segment includes the service provider video, which Cisco has divested, as well as some emerging technology and third party products.
Non-GAAP net income for the quarter was $3.5 billion, up 14% year-over-year, and earnings-per share were $0.75, up 23% year-over-year.
For next-quarter guidance, Cisco anticipates 5-7% growth year-over-year, with non-GAAP earnings per share of $0.71 to $0.73. That guidance excludes the Service Provider Video Software Solutions (SPVSS) business, the sale of which has recently been completed. (See Cisco Closes Sale of Video Software Unit to Permira.)
Cisco traded after hours Wednesday at $46.51, up nearly 5%.
— Mitch Wagner




Executive Editor, Light Reading
PARTNER PERSPECTIVES
- content from our sponsors