LAS VEGAS -- Cisco Live -- Cisco is going to take over your network, and make you like it.
With CEO Chuck Robbins's keynote Monday, the old Cisco was back: The Cisco that wants to take over and control your entire network, from edge to edge, and the core to the cloud. In exchange, Cisco offers to protect you from the onslaught of digital threats, and gives you the tools to manage and extract value from the explosion of connected devices brought by the Internet of Things.
Networks hit a tipping point for scale in the third quarter of last year, Robbins said in his keynote on Monday. At that point, the number of new machine-to-machine connections added to the network exceeded the number of phones and tablets added.
"We're moving into a world of unbelievable massive expansiveness, distributed connectivity across hundreds of billions of devices," he said. Artificial intelligence and machine learning will enable enterprises to "extract greater insights from these connections than we ever have in the past," the Cisco boss said at the conference keynote Monday (before introducing Apple CEO Tim Cook to discuss the two companies' partnership). (See Apple Hugs Cisco in Big Enterprise Push.)
Robbins added, "And all of these connections will change everything you think about the future of your organization. The insights and value we can get from these billions and billions of new connections will change everything about how you think about your future."
Keep it simple To achieve that future, enterprises need to vastly simplify their networks. "Complexity is the enemy of everything I just described," Robbins said.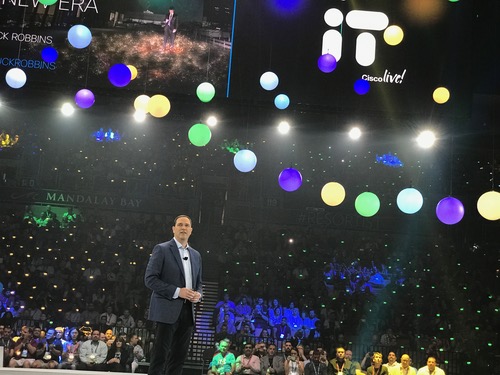 Security is key as well. "As we add billions of things, the threat expands. So we have to ensure we're building security into everything we do as we think about the future," Robbins said.
"We are going to build the secure intelligent platform on which you can run your digital business of the future," he said.
That's where Cisco's "network intuitive" strategy, introduced last week, comes in. (See Cisco Declares a New Era of Intent-Based Networking.)
The strategy brings together an array of ideas and principles that have been driving networking for years, and are already being implemented, in parts or whole, by Cisco's competitors, including VMware, Juniper, Arista and the array of white-box vendors. It builds on the principles of software-defined networking -- that networks should be built to be flexible and reprogrammable using software, rather than built on rigid, preprogrammed hardware.
Not original Cisco's strategy isn't entirely original, but that doesn't make it invalid. Indeed, the fact that competitors are already there indicates that Cisco is on to something. And lack of first-mover advantage isn't much of an obstacle to a huge incumbent like Cisco looking to move on the market.
Ruba Borno, Cisco VP of growth and chief of staff to CEO Robbins, explained the strategy concisely in a meeting with a small group of journalists this week. It's a five-part strategy, she said:
Deploying security everywhere: This is crucial. Without security, no benefits are achieved, Borno said.
Security is built deep into the network, Robbins said. The idea of the network perimeter is dead. A network perimeter implies a hostile zone on the public internet outside, with a secure area on the enterprise network inside. Instead, security threats exist inside the network and the Internet of Things extends the enterprise onto the public Internet.
Instead of a perimeter, enterprises need to secure the network itself, Robbins said.
"The network will be the platform across which all these connections come into your world, and we have to start applying security the moment they hit the wire or we don't have a chance," Robbins said.
Cisco's strategy here resembles the microsegmentation strategy of VMware, dividing the network up into a large number of small parts, each of which can be secured independently.
Cisco is shining a spotlight on its new capability to detect threats in encrypted traffic without decrypting the traffic, with 99.995% efficacy. "We're really threading the needle between privacy and security," Robbins said; Cisco can detect threats without having to decrypt traffic and look at the contents of what's inside.
Reinventing the network: Cisco rewrote its 25-year-old IOS operating system to support APIs for programmability. "That was no small feat," Robbins said. Cisco introduced new Catalyst switches last week, and DNA Center, "the command center of the network," providing automation and analytics to control the network.
For programmability, Cisco is relying on intent-based networking. Rather than configuring the network using obscure CLIs, network administrators can simply tell the network what results he or she wants to produce, and the network automatically configures itself to deliver. Examples Cisco demonstrated this week involved networks at hospitals, where the network automatically configures itself with separate segments for medical equipment and other equipment, and doesn't allow security cameras to communicate with HVAC equipment.
The idea of programmable networks is rooted in software-defined networking, touted by open source groups and white box switch vendors. Arista, Juniper and Cisco itself have in the past "disaggregated" -- separated -- software from hardware and sold them both separately. (See Cisco Gives Its Software Licensing a Makeover, Arista Offers Software à la Carte, Juniper Bets Big on White Box & NFV,
Arista also launched real-time network telemetry. (See Arista Launches Real-Time Telemetry for Cloud Networks.)
And just this month, Juniper introduced Cloud-Grade Networking, providing telemetry, automation, security and machine learning to help enterprises make the transition to the cloud. The technology includes Node Slicing, to allow network operators to put multiple network functions on a single router. (See Juniper Pushes Network Virtualization.)
Apstra, which is exhibiting at the Cisco conference, specializes in intent-based networking. While Cisco's intent-based networking is focused on its own networks, Apstra says it provides multivendor intent-based networking. (See Arista Co-Founder Backs Network Automation Startup.)
Enabling the multicloud world: "I love it when people say 'the cloud." Robbins said. "We don't live in a single-cloud world. It's a multi-cloud world."
Each enterprise connects to five or more cloud providers, Borno said. Enterprises need visibility as to what's going on in those clouds, analytics to interpret data, orchestration to manage workloads and security, Borno said.
Leverage the power of data: Enterprises need analytics in the network, data center, applications and connected things, Borno said.
---
Keep up with the latest enterprise cloud news and insights. Sign up for the weekly Enterprise Cloud News newsletter.
---
Enabling Cisco to deliver customer value on a continuous basis: Cisco is providing "futureproofed systems" that has "the best hardware," with ASICS, and pervasive computing. The equipment can be updated in software, to provide "functionality we haven't even thought of yet," Borno said. Cisco provides cloud-managed orchestration for remote management.
This month's announcement has been a return to focus for Cisco, which has been going in multiple directions in the past couple of years, acquiring a series of companies, including:
Cisco has also increased focus on its Spark cloud collaboration tools, and security products and security consulting. (See Cisco Looks to Take the Pain out of Meetings.)
The new "network intuitive" initiative, announced this month, ties it all together with a unified direction of turning the network into a single organism that adapts, self-heals, senses its environment, reacts to changes -- and defends itself against predators. It's also a return to Cisco's old go-to-market strategy: Cisco is going to conquer your entire network, from end to end, to the core and the cloud. And you're going to be happy about that, Cisco says.
— Mitch Wagner
Editor, Enterprise Cloud News
---
CALLING ALL CLOUD, NFV AND SDN COMPANIES: Make sure your company and services are listed free of charge at Virtuapedia, the comprehensive set of searchable databases covering the companies, products, industry organizations and people that are directly involved in defining and shaping the virtualization industry.
---