Cisco: Enterprises Will 'Spend Differently'
Enterprises are going to need to get used to spending their money in different ways to get IT services -- and maybe spending more, but getting more in return, according to Cisco executives.
Cisco is making a transition from selling products to recurring software and service revenues. That means enterprise customers will have to get used to recurrent spending, rather than buying products once and owning them outright.
That's good news for partners, who will see increased revenue over time. Cisco executives pounded that message at the Cisco Partner Summit, which took place earlier this year in Dallas. (See Cisco Partner Summit Photos: Deep in the Heart of Networks.)
But increased revenue for partners has to come from somewhere. Does that mean partners' enterprise customers will spend more?
"They will be spending differently," Ruba Borno, Cisco vice president of growth initiatives and chief of staff to CEO Chuck Robbins, told Enterprise Cloud News. She cited research that said companies that adopt technology both grew revenue and created more jobs faster than those that are technology laggards.
"This isn't spending more from a finite pool," Borno says. "This is spending appropriately for a growing pool and a growing business." (See Cisco: We'll Put IT Back in Charge .)
New revenue opportunities for partners arise from Cisco's "network intuitive" strategy, which the company introduced in June. (See Cisco's 'Network Intuitive': A Risky Transition.)
The "network intuitive" strategy isn't unique to Cisco -- it's Cisco's name for "intent-based networking," where network operators get away from configuring the network manually and instead use APIs and programming to express business intent, and let the network configure itself automatically to achieve that intent.
Juniper, Apstra, Forward Networks, Waltz and Veriflow are also pursing intent-based networking strategies. (See Juniper Launches 'Bots' for Self-Driving Networks, Apstra Automates Legacy App Networks and Forward Launches Freemium Service for Network Visibility.)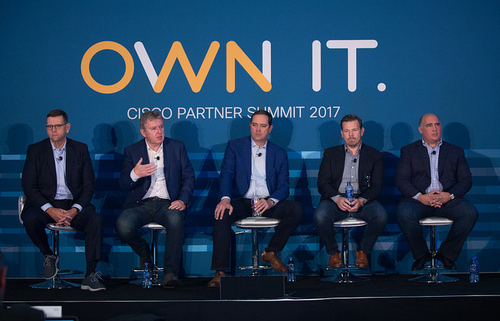 As network intelligence moves to software, enterprises will require software upgrades and professional services, creating revenue opportunities for partners, Cisco says.
To succeed with this strategy, Cisco and partners will have to deliver greater value to enterprises, Cisco executives said.
"The key is to give the customer greater value than they were getting before," CEO Chuck Robbins said during a Q&A with journalists at the Dallas conference. As a single example, Robbins cited Cisco's launch this year of a software subscription on top of an Ethernet switch. "Most people thought we were crazy," Robbins said. To succeed, Cisco had to change the product, not just provide a new buying model for the same product.
"We had to bring a very unique, differentiated capability into that subscription," Robbins said. Using Cisco's DNA Center, enterprises can do encrypted traffic analytics for enhanced security. "Over time during that subscription, customers will get continuous innovation, which we believe is greater than they were getting when they were buying it one time," Robbins said.
To keep earning customer money, Cisco and its partners need to deliver recurring value, and software is how that value is delivered, stated David Goeckeler, Cisco executive vice president and general manager, networking and security. "The value of what we're delivering is shifting from primarily hardware to hardware and software. That's what's driving the business model shift. It's not that we woke up one morning and said, 'We have this whole portfolio. We'll change how we monetize it.' That won't work."
"And it's not like the old model is perfect," said Rowan Trollope, Cisco senior vice president and general manager, applications. The old business model required users to oversubscribe to capacity, and buy products they ended up not using. "People had to decide in advance what licenses they want."
Today, the fastest-growing item in Cisco's collaboration portfolio is its active-user license -- enterprises pay only for what they use, and if Cisco can't deliver capabilities that customers want to use, Cisco doesn't make money, Trollope said. "We have skin in the game with the customer," said Chris Dedicoat, Cisco vice president of sales.
Related posts:
— Mitch Wagner




Editor, Enterprise Cloud News