Mark Zuckerberg and other Facebook leaders used the company's earnings call Wednesday to defend its ad-supported business model, saying it helps Facebook improve local economies and break the digital divide.
Facebook also talked about its plans to take GDPR worldwide; it described its capital spending and discussed increased opportunities using AI to moderate content and block terror messages and hate speech.
We'll leave the actual financial results to others. Here are six of the key things we learned listening to the call.
Facebook has no plans to diversify beyond advertising
In response to a question from an analyst, Mark Zuckerberg, Facebook founder and CEO, said the company is uninterested in non-advertising business models. Zuckerberg sees ads as the best way to run its business and achieve its mission of connecting people around the world. Even when it tests other services, like payments and Marketplace, it runs those businesses at cost.
Facebook says ad-supported businesses help break the digital divide
"The fastest way to break the digital divide, in the United States or around the world, is offering services free to any consumer regardless of their circumstance," Facebook COO Sheryl Sandberg said. And the best way to offer free services is to make those services ad-supported.
She added, "Advertising-supported businesses like Facebook increase access and improve opportunity."
Effective advertising helps small businesses grow, she said. "This is especially important for small businesses, who wouldn't effectively be able to buy broad-reach media," Sandberg said. More than 80 million small businesses use Facebook Pages. "Small businesses are the backbone of local communities and create the majority of jobs around the world." Their growth creates millions of new jobs. Facebook surveyed small businesses in 18 countries, and more than half that are on Facebook say they've been able to hire more people due to growth in demand.
Facebook's Internet.org have helped 100 million people get Internet access. But people want control of their information and want to feel ads are authentic. So Facebook is rolling out privacy controls and also requiring government identification and transparency for high-profile political ads.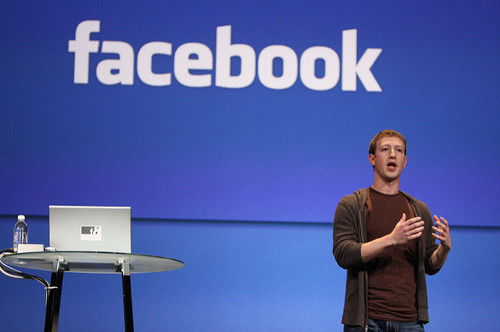 ---
Boost your knowledge of cloud-native software and innovations driving data center transformations! Join us in Austin at the fifth-annual Big Communications Event May 14-16. The event is free for communications service providers -- secure your seat today!
---
Facebook is taking GDPR worldwide
As part of its privacy effort, Facebook will extend GDPR controls worldwide -- not just in Europe. Those controls are rolling out in Europe, and will be different around the world, localized for each market, Sandberg said.
The effects of GDPR are uncertain, for Facebook and everybody in the ad-supported business, Sandberg said.
"The thing that won't change is that advertisers will look at the highest ROI opportunity," she said. And Facebook is in a strong position for that.
Facebook expects to spend about $15 billion on capex this year
Quarterly capex expenditure was $2.81 billion. The annual $15 billion spend is at the high end of Facebook's previous estimate of $14 billion to $15 billion. That spending is comprised of data center, servers, network infrastructure and office space.
Facebook was too late to shape mobile. It wants to shape VR
Zuckerberg regrets Facebook wasn't able to shape the direction of mobile, because mobile emerged when Facebook was still small. The iPhone and Android emerged in 2007.
Now, with virtual reality, Facebook has an opportunity to shape the technology that it missed with mobile. Facebook has its own VR business, the Oculus line, and a new lower-priced Oculus model, the Oculus Go, is due shortly.
"People should be at the center of how we design technology," Zuckerberg said. Technology shouldn't be designed around apps, it should be around relationships because relationships are what matter to us as people.
AI is becoming strategic
AI tools are taking down ISIS and al Qaeda messaging before 99% of people have seen them. The tools also flag when people's Facebook posts appear suicidal, and reach out to first responders, which have helped 1,000 people get help quickly, Zuckerberg said.
Beyond that, Facebook is looking to use AI to beef up content moderation. Zuckerberg noted that when he started Facebook in 2004 in his dorm room, Facebook had limited resources. "The only real way to run the service was to enable people to share what they wanted and then reactively, if the people in the community saw something that was offensive, or they thought it was against the rules, they'd flag it for us and we'd look at it and take things down that didn't belong," he said.
Now, with AI tools, which did not exist then, and Facebook's ability to hire "thousands and thousands of people" to review content faster and view content proactively, Facebook moderation will shift to a "more proactive model,"
But AI is limited. Terrorist content is more easily identified than simple hate speech, which is more nuanced and takes more time, Zuckerberg said.
AI has proven more readily able to detect nudity than hate speech. "It's easier to build an AI system that can detect a nipple than what is linguistically hate speech," Zuckerberg said.
And adversaries will have many of the same tools as Facebook, increasing the challenge, Zuckerberg said.
Related posts:
— Mitch Wagner




Executive Editor, Light Reading