Salesforce is marking the one-year anniversary of its Einstein artificial intelligence technology with an update to Sales Cloud, which adds some additional AI-flavored features to the platform.
While Salesforce is announcing the three features on Tuesday -- Einstein Forecasting, Einstein Opportunity Scoring and Einstein Email Insights -- these features won't be available until early next year.
In addition to the three additional features, Salesforce released several stats about Einstein to mark its one-year anniversary. These include:
Right now, Salesforce Einstein is making 475 million predictions each day.
There are now 7,000 developers working on Einstein related apps.
Under Salesforce Chief Scientist Richard Socher, the company has published ten different academic papers on AI.
Although Einstein started in Sales Cloud, Salesforce has been mixing the AI algorithms into its other products throughout the year. (See Salesforce Brings Einstein AI to Field Service Lightning.)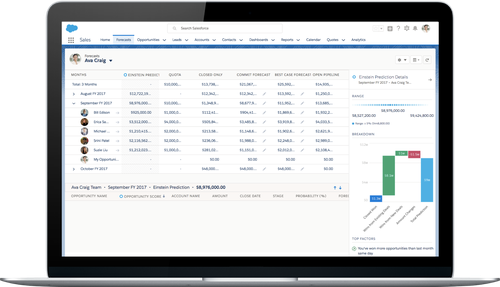 Not to be outdone, rivals such as Oracle have also been busy showing that they too can add machine learning, AI and natural language into various offerings. (See Oracle Adds Machine Learning, AI to IoT Cloud.)
In an interview with Enterprise Cloud News, Lynne Zaledonis, vice president of product marketing for Sales Cloud, noted that over the past 12 months, Einstein AI has added a layer of automation into the sales process, allowing companies to get more out of their sales representatives. One customer reported giving reps back an hour each day, and more and more of the company's customers are asking for these types of time-saving abilities.
As Salesforce continues to invest more in AI, Zaledonis believes that machine learning will continue to take over more aspects of the sales process.
"It's about getting the most of your reps, which is going to get the most out of your businesses," Zaledonis said. "So we'll continue to use artificial intelligence because we're building these applications of machine learning and they continue to get smarter and smarter. We can automate all the processes of the sales cycle that are administrative tasks and give more time back to the rep."
---
Keep up with the latest enterprise cloud news and insights. Sign up for the weekly Enterprise Cloud News newsletter.
---
That level of automation is one of the main ideas behind Einstein Forecasting, which is the most significant update Salesforce is announcing on September 19. Designed for sales managers and CFOs, the Forecasting feature mixes machine learning and data mining to allow the manager to anticipate whether sales will close within the month or if a deal is starting to fall apart.
The algorithm behind it analyzes previous trends and historical data, as well as new information to offer a prediction of the month or quarter. Natural language technology then translates into a message or email that is delivered to the CFO or head of sales. It's designed for laptops or mobile devices.
"It gives them the ability to see what is in the pipeline and what they should be expecting from that pipeline, and to be able to make informed decisions on it," Zaledonis said.
The other two features, Opportunity Scoring and Email Insights, are designed for the sales reps in the field. The Scoring feature scans the sales pipeline and identifies which deals are set to close and which ones are in jeopardy and could fall apart.
The last feature, Email Insights, also uses automation to identify important emails and prioritizes those within the rep's inbox, offering recommendations for how to respond and which messages are most urgent.
As of now, all three features are in the pilot stage with various Salesforce customers testing them. All three should be generally available in the first half of 2018.
Related posts:
— Scott Ferguson, Editor, Enterprise Cloud News. Follow him on Twitter @sferguson_LR.