Oracle's Hurd: 90% of Apps Will Integrate AI in 2 Years
NEW YORK CITY – Oracle CEO Mark Hurd doesn't view artificial intelligence as a separate technology. Instead, AI is a feature that will be integrated into all different parts of the IT stack, which will increase the use of machine learning and automation within the enterprise.
"I don't think AI will become a thing, I think AI will become a feature integrated into everything, which makes it very different strategically," Hurd said during Monday's opening keynote for Oracle Corp. (Nasdaq: ORCL) CloudWorld NY.
Hurd believes that 90% of all enterprise applications will feature AI capabilities by 2020. At the same time, over 50% of enterprise data will be managed autonomously. However, these developments go beyond making data more secure or easier to manage, or the increased use of machine learning.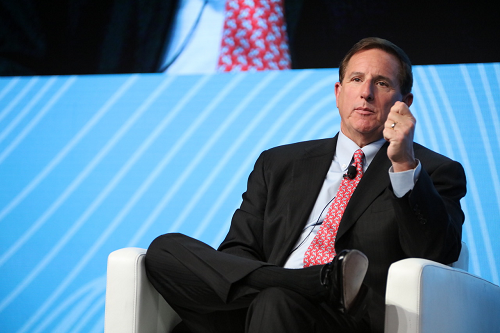 "As this comes out, I think you will find it's not just about security, just about cost, just about performance, it's going to be about all of it," Hurd said. "There are very few times when I can get something to run better, run faster, be cheaper and more secure while I do it. This will do that."
Hurd and Oracle are betting that machine learning, autonomous systems and AI will take up much of the slack within the enterprise, especially when it comes to issues such as patching massive databases, which can take more than six months and even up to one year for many businesses.
To drive this home, Oracle announced on February 12 that the company would expand on the vision founder and CTO Larry Ellison detailed at Oracle Open World in October, when he explained the company's autonomous database. (See Oracle's Ellison: Amazon & SAP Use Our Database Because We're Better.)
Now, Oracle is rolling out what it calls the Autonomous Cloud Platform, which will bring these AI, machine learning and autonomous capabilities to a range of the company's services, including security, application development and data integration. (See Oracle Expands Cloud Autonomy, Data Centers & SLAs.)
While the security and patching capabilities are clearly some of the more important features for enterprise users, Oracle's Thomas Kurian, the president of Product Development told the audience that the autonomous features can change how businesses spin up IT resources and how developers create and deploy applications across the network.
"We have introduced an autonomous database cloud and the benefits of it are zero-cost labor costs, full elasticity instantly," Kurian said. "You don't need to take it down for patching, backing-up, upgrading tuning, and we guarantee the best performance in the industry."
---
Want to hear more about the leading operator use cases for AI technologies? Join us in Austin from May 14-16 at the fifth-annual Big Communications Event. There's still time to register and communications service providers get in free!
---
The point of these features is to remove some, but not all, of the human factor that goes into developing applications and then maintaining, securing and patching these apps as the move into the production phase of the cycle.
To demonstrate this, Kurian offered a look at the Oracle Autonomous Data Warehouse, which uses a graphical interface to help speed up queries. A user can simply name the database, type in a password and select how much CPU and storage resources are needed in order to spin up the applications.
Oracle executives also showed how businesses can use these same AI and machine learning features to create chatbots, as well as giving developers the ability to integrate the company's applications and services into consumer tech, such as Amazon's Alexa and Apple's Siri.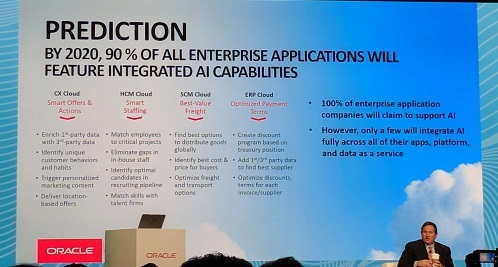 While Oracle has lagged behind Amazon.com Inc. (Nasdaq: AMZN), Microsoft Corp. (Nasdaq: MSFT) and Google (Nasdaq: GOOG) in terms of cloud market share, the company over the last 18 months has put a vigorous emphasis on cloud capabilities, moving beyond software-as-a-service (SaaS) to embrace other aspects of the cloud, such as infrastructure-as-a-service (IaaS).
In past predictions, Hurd said that some 80% of all production apps would to the cloud by 2025, and that 80% of IT budgets will be spent on cloud services. However, at Monday's show, Hurd said that his one mistake was in underestimating how fast these cloud changes are being made and that his prediction may come true sooner than expected.
"That is one of the reasons why at the core, the cloud model is such a big deal," Hurd said on Monday. "This is not just a technology shift; it is a generational shift. It isn't about technology, it's about business models and it's about strategy... Companies cannot sustain the status quo. It is a non-sustainable business model we have today. Why will this change? It costs less to do this and you get more innovations without putting it on your IT staff or paying third parties. It is more secure."
Related posts:
— Scott Ferguson, Editor, Enterprise Cloud News. Follow him on Twitter @sferguson_LR.