Microsoft Serving a Slice of AI With Everything at Ignite
When Microsoft CEO Satya Nadella kicks off the company's annual Ignite conference on Monday in Orlando, Fla., there's one phrase that everyone should expect to hear over and over: artificial intelligence.
Although Nadella and his executive team plan to talk about a host of other initiatives and plans for the company at the show, including Office 365, the Windows 10 operating system, hybrid cloud and mixed reality, attendees should expect to hear repeatedly how Microsoft is planning to blend AI and machine learning into almost every platform it produces. (See Microsoft Azure Stack, SQL Server 2017 Emphasize Hybrid Cloud.)
In a preview of his remarks before the start of the show on September 25, a Microsoft spokesman noted that Nadella plans to show how mixed reality and AI "cut across all solution areas." In short, it's Microsoft's way of offering its customers a path to digital transformation. (See Buzzword Bingo: What the Heck Is Digital Transformation?.)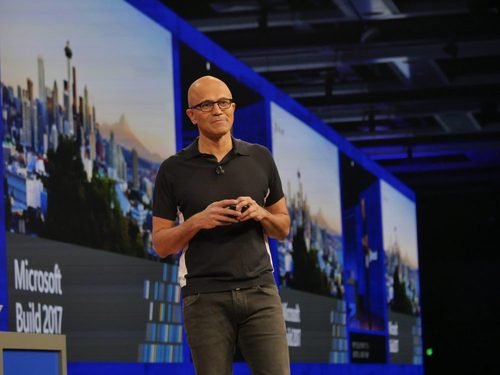 For example, Microsoft plans to detail how for the last year, the company integrated LinkedIn data with Office 365, along with an enhanced Bing Search, to help deliver accurate information to the profile card in Office 365. After internal testing, the company now plans to start offering these features to customers.
Microsoft is also planning to add similar intelligent capabilities to Excel, which will now allow users to pull information from outside, public sources into a spreadsheet and combine that data with existing company data.
A bit of this intelligence is also coming to the company's unified communications portfolio, including Skype and Teams.
However, some of the biggest AI changes are coming to Dynamics 365, the company's cloud-based platform for enterprise resource planning (ERP) and CRM.
At the show, Nadella plans to reveal a new virtual assistant used in customer service. In addition to Microsoft, both HP and Macy's are also using this new virtual assistant, as well as sales conversation management tools that also use Microsoft AI.
Looking back at the last few months, it's not surprise that Microsoft is eager to talk about its AI and machine learning plans, and to use one its biggest shows of the year to promote them. (See Microsoft's 'Project Brainwave' Details Ambitious AI Plans.)
And Microsoft faces competitive pressure. For instance, just last week, Salesforce announced that it is adding its own Einstein AI technology to Sales Cloud, as well as creating a $50 million fund to support startups in this field. (See Salesforce Updates Sales Cloud Einstein With Additional AI Features .)
In an email, Charles King, an analyst with Pund-IT Research, noted that Microsoft has been laying the groundwork for a a big AI push for some time.
"Successful AI and related machine learning and deep learning efforts have three things in common; innovative software and development skills, access to a robust IT infrastructure for deployment, and support for the (mostly) open source projects and communities leading the AI charge," King wrote in the email.
"Microsoft has obvious strengths in the first two areas," King added. "The company has long been a leading player in a wide variety of consumer and business software offerings, and its Azure platform is typically ranked in the top 2 or 3 of global cloud solution platforms. Microsoft is also an avid supporter of open source projects, including many of those driving innovations in AI."
---
Keep up with the latest enterprise cloud news and insights. Sign up for the weekly Enterprise Cloud News newsletter.
---
King noted that Microsoft's previous disdain for open source and Linux hurt the company, and Nadella is making up for some lost opportunities.
"Microsoft has had to work harder and longer to prove its credibility as a supporter of open source. I expect that's one of the reasons that Nadella and other company executives are accentuating those efforts, including Microsoft's work in AI," King added.
While AI is one his main focuses -- and clearly Microsoft views this technology as critical to the future of the company -- Nadella does plan to talk about other developers in different parts of Microsoft.
Specifically, Nadella plans to address what the company is doing with quantum computing.
Unlike traditional computing, which is based on binary 1s and 0s, quantum computing uses quantum bits, or "qubits," that can represent 0, 1, or both numbers at the same time.
Results of calculations may change from run to run based on the quantum state, so the same calculation will be performed millions of times, with the final answer being the result that occurred most frequently. These qubits allow the machine to run multiple calculations at the same time, making the computers able to perform tasks much faster.
Related posts:
— Scott Ferguson, Editor, Enterprise Cloud News. Follow him on Twitter @sferguson_LR.