Microsoft Designing Its Own AI Chip
Microsoft continues to double down on its artificial intelligence bets. The software giant now plans to incorporate its own AI chip into the company's HoloLens mixed reality line.
During a keynote at CVPR 2017 on Sunday, Harry Shum, executive vice president of Microsoft's Artificial Intelligence and Research Group, showed off the AI coprocessor, which Redmond plans to incorporate into the next version of HoloLens.
With HoloLens, Microsoft already uses its own Holographic Processing Unit or HPU with the device, which processes all the information from the various sensors. This new AI coprocessor works with the HPU and will allow for greater use of deep neural networks within the next-generation HoloLens.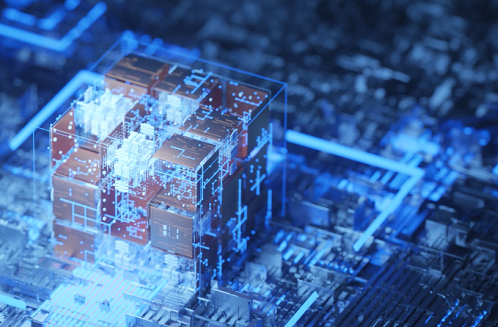 "Deep learning approaches have two well-known challenges: they require large amounts of labelled data for training, and they require a type of compute that is not amenable to current general purpose processor/memory architectures," Marc Pollefeys, director of science for HoloLens, wrote in a July 23 blog that announced the AI chip.
While other companies have used field-programmable gate arrays (FPGAs), Pollefeys wrote that this type of approach wouldn't work with HoloLens, so Microsoft decided to develop its own custom AI chip that works with the existing HPU and can run off the device's battery.
Although Pollefeys wrote how mixed reality and AI were the future of computing, he didn't offer much in the way of details about the chip or the updates to the HoloLens and how it would blend the two technologies.
Whatever the details, Microsoft is looking to invest in AI throughout its various products and will likely use the software to bolster its software when needed, said Patrick Moorhead, the principal analyst at Moor Insights.
---
Keep up with the latest enterprise cloud news and insights. Sign up for the weekly Enterprise Cloud News newsletter.
---
"I would expect Microsoft to place customized silicon wherever they don't feel they have the horsepower in more programmable silicon like CPUs, GPUs, DSPs and FPGAs," Moorhead wrote in an email to Enterprise Cloud News. "I could see the silicon landing in devices like a smaller Surface device like a 'communicator,' VR headset and maybe even an XBOX."
Earlier this month, Microsoft announced a new research lab dedicated to AI and its machine learning cousin. Currently, the company has about 100 researchers working on various projects at the lab, but the goal is to develop all these aspects of AI and machine learning together to create a holistic approach to problems. (See Microsoft Establishes New AI Research Lab.)
During its earnings call last week, the company showed large growth in its cloud and emerging technologies sections, including some of its early machine learning and AI offerings. (See Microsoft's Azure, Other Cloud Offerings Driving Solid Growth.)
Related posts:
— Scott Ferguson, Editor, Enterprise Cloud News. Follow him on Twitter @sferguson_LR.