IBM should have had a good day on Wall Street, after reporting its second straight quarter of revenue growth following five years of consecutive quarterly revenue declines. Instead, the stock price dropped 7.5% on Wednesday -- its worst single-day decline since 2013, according to CNBC.
IBM Corp. (NYSE: IBM) closed at $148.79 Wednesday, and was up a cat's whisker after hours, trading at $148.80 at about 8:00 p.m EDT.
Why?
While quarterly earnings and revenue, reported on Tuesday, were better than expected, the results were driven largely by one-time boosts from workforce restructuring and changes to the US tax code. Take those factors away, and earnings were mostly flat year-over-year, CNBC reports.
On Tuesday IBM reported revenue of $19.1 billion, up 5% year-over-year in the first quarter of 2018, ending March 31. But revenue was flat adjusting for currency -- a distinction which Light Reading shrugged off, but Wall Street apparently did not. (See At IBM, Cloud Helps Keep Turnaround Going.)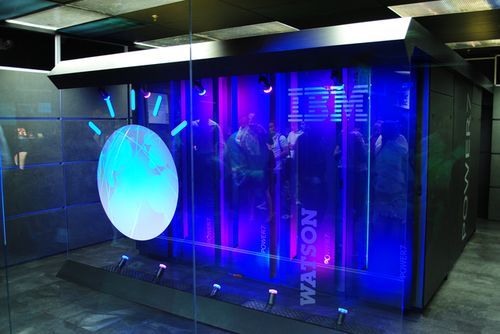 ---
Boost your knowledge of cloud-native software and innovations driving data center transformations! Join us in Austin at the fifth annual Big Communications Event May 14-16. The event is free for communications service providers -- secure your seat today!
---
On the earnings call Tuesday afternoon, IBM's James Kavanaugh, senior vice president and chief financial officer, put a positive spin on things.
"Our first-quarter results reflect much of the work we've done to reposition our portfolio and our skills to address the secular trends in the market, led by the phenomenon of data," Kavanaugh said on the call. "We've been building new platforms and solutions, while modernizing existing ones, embedding cloud and AI into more of what we offer."
He added, "And so, IBM is now a cognitive solutions and cloud platform company, focused on the high-value areas of IT."
Kavanaugh said first-quarter systems revenue was pulled down by a decline in storage revenue, but said he expects that situation to turn around by the second half of the year.
So what happens next?
The stock dive could be bad news for Ginni Rometty, IBM CEO since 2012. She's been leading a slow transition for IBM from its traditional enterprise systems and consulting to focus on areas the company calls "strategic imperatives," including cloud, security, cognitive computing (a.k.a. Watson), analytics, mobile and security. When stock prices plummet, investors often tell the CEO to take a hike, even when the decline isn't the CEO's fault.
With a change of leadership often comes a change of strategy -- but it's hard to see what other choices IBM has other than the path Rometty has the company on. Traditional enterprise business is declining, and traditional enterprise vendors like IBM, Dell, Hewlett Packard Enterprise, Cisco, and even Microsoft are all following variants of a hybrid cloud or multicloud strategy. That's not optional.
Moreover, strategic imperatives are doing well for IBM. That segment hit $37.7 billion over the last 12 months, up 12%, representing 47% of IBM revenue. IBM expects to break $40 billion for strategic imperatives by the end of the year. Cloud revenue alone was $17.7 billion over the last 12 months, up 22%.
Security was the growth leader for strategic imperatives, up 60%.
Another change we might expect to see if IBM doesn't right this ship soon is that investors might demand breaking the company into pieces and selling those pieces. But IBM says the company is all one piece -- the non-"strategic imperatives" businesses aren't a drag on the company; they are enabling technologies driving the success of the strategic imperatives. For an example, look no further than IBM's recently announced mainframe -- it's optimized for security and machine learning and fits in a standard 19-inch datacenter rack. (See IBM Launches 'Skinny' Cloud Mainframe.)
IBM specifically singled out the mainframe as driving growth in its quarterly results reported three months ago, the first quarter of growing revenue in five years.
And of course investors often demand big layoffs when stock prices decline precipitously.
So maybe Rometty is on the way out and a lot of IBM employees might be finding new employers, one way or another. But all of that is speculation.
What's not speculation is that investors demand return, and IBM will need to turn its falling stock price around. Otherwise, investors will demand big changes, and those changes will most certainly affect IBM's enterprise and other customers.
Related posts:
— Mitch Wagner




Executive Editor, Light Reading