A little over a year ago, Salesforce introduced Einstein, making a huge bet that artificial intelligence would play a major role in the future of information technology. Now, the CRM giant is doubling down on that bet.
At the start of its annual Dreamforce conference in San Francisco on Monday, Salesforce executives will spend the balance of their time focusing on what they are calling the "fourth Industrial Revolution," specifically intelligence, whether that is AI, machine learning or adding additional automation into the sales and marketing process.
While not announcing a major new product or technology, Salesforce is looking to show its users an overall strategy focused on how intelligence can make the company's products and platforms easier to use, especially for non-technical employees.
At the same time, Salesforce is planning more outreach for what the company calls "trailblazers," those who are building applications using Salesforce's various tools and platforms that shed further light on what customers are doing and thinking.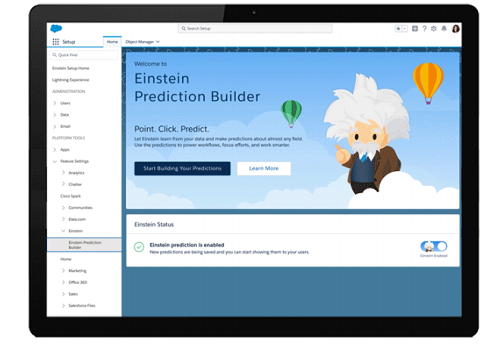 To hammer this point home, Salesforce commissioned a study from IDC that found --unsurprisingly -- that the company's ecosystem of customers and software-as-a-service (SaaS) applications are creating some 3.3 million jobs.
All of this points to the disruption that all industries are now undergoing as automation, AI, machine learning and IT are all becoming more ingrained, especially in the sales and marketing process, and as more nimble companies looking to dislodge entrenched enterprises. (See Will AI Solve the IT Jobs Shortage?)
It's a subject CEO Marc Benioff recently spoke about at the Gartner Symposium. (See Salesforce's Marc Benioff: I Hope We Are Disrupted.)
"What we are going to talk about at Dreamforce is really about how intelligence is reshaping every single industry, whether it's manufacturing, to high-tech, to healthcare or finance," said Jim Sinai, vice president of product marketing for Salesforce Einstein, before the November 6 start of Dreamforce.
"One of the things that we are really focusing on is what does this mean for our customers' customers," Sinai added. "At the end of the day, what our customers are focusing on is how do they stay focused on their customers through this disruption and how do they bring that laser focus to their customers to capture market share and growth, and to be in a good position to move through this industrial revolution. That is what Salesforce is all about."
To emphasize this point, Salesforce wants to show that it can make its various products and tools highly customizable, personal and easy to use. It has also attached the prefix "my" to several of its existing platforms, including Einstein, IoT, Lighting, Salesforce and Trailhead.
There's also an update to Quip, a collaboration platform that Salesforce inherited when it bought the company in 2016 for $750 million.
What do these updates entail?
For the myEinstein platform, Salesforce is offering two specific updates. The first is Einstein Prediction Builder, which uses AI to build models that can help predict outcomes within a salesforce deployment. The other is Einstein Bots, which uses a framework to help users build bots that can answer questions or retrieve information for customers.
The goal of the Einstein Prediction Builder is to create a simple to use, drop-and-drag feature to build more automation into the sales process. Behind the scenes, Salesforce does the data science and predictive work through its cloud, and keeps all the data within the platform. The user or trailblazer simply follows through with what they need to build.
"We wanted our users to create a prediction with a simple click," Sinai said.
This theme runs through other updates as well.
---
Keep up with the latest enterprise cloud news and insights. Sign up for the weekly Enterprise Cloud News newsletter.
---
For instance, the myLightning update to the company's application development framework adds Theming and Design System, which can be used to alter colors and images to help with branding, as well as App Builder with Dynamic Pages, which allows for application scalability and customization. There's also Lightning Flow, which add a layer of automation, and allows users to add visuals to the apps.
As an example, Salesforce notes that Farmer Insurance created a visual component using Lightning Flow that lets policy holders upload images of items that have been damaged.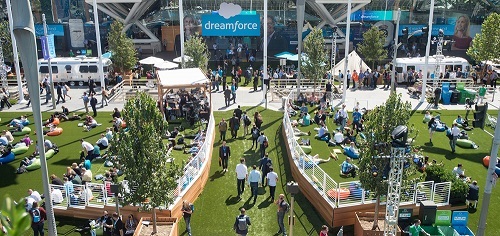 Within the IoT platform, Salesforce is adding IoT Explorer, which adds three features: A low-code orchestration that allows for automation of the code and makes it easier to create apps; Customer Context, which helps interpret the data that is coming into the business; and Proactive Engagement, which helps the business respond to the data by creating workflows.
mySalesforce is the company's newly updated mobile application development platform, which also takes advantage of low-code to help build apps faster and allows users to get these apps listed faster on Google Play and the Apple App Store.
Trailhead, which is Salesforce's online learning and gamification platform, is getting an update called myTrailhead, which helps create new learning tools and can also dig into an employee's profile to determine which skills she or he has.
The final update is to Quip. Salesforce is introducing Live Apps, which brings all the collaboration documents, such as Salesforce apps and calendars, into one location for a given project. The company is also adding APIs and template to offer an additional layer of customization.
Related posts:
— Scott Ferguson, Editor, Enterprise Cloud News. Follow him on Twitter @sferguson_LR.