Amazon Introduces 'DeepLens,' a $249 AI-Enabled Video Camera
LAS VEGAS -- AWS re:Invent -- Amazon Web Services introduced DeepLens, which it bills as the world's first wireless, "deep-learning enabled" video camera, to give developers a hands-on tool to start learning machine learning.
DeepLens is a high-definition camera, with onboard compute optimized for deep learning. The camera also sports AWS Greengrass software, which runs Lambda triggers to execute code on AWS cloud. DeepLens also comes with tutorials and prebuilt models, and integrates with SageMaker -- Amazon's new machine learning service. (See Amazon Brings Machine Learning to 'Everyday Developers'.)
Developers can go from unboxing to first inference in less than ten minutes, AWS CEO Andy Jassy said at a keynote Wednesday.
"The goal is not to build a high-definition video camera, but rather help developers learn about deep learning and machine learning," Jassy said.
Developers can use DeepLens to familiarize themselves with machine learning by building apps. For example, DeepLens can be trained to recognize a license plate in a driveway and open the garage door for the car, or send an alert when the dog climbs on the couch, Jassy said.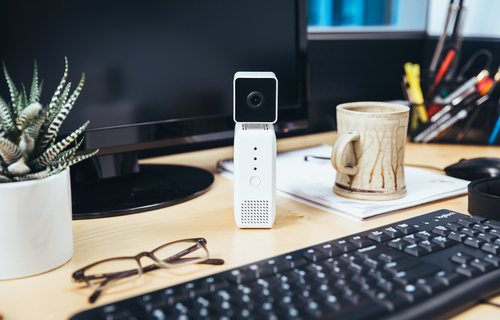 ---
Keep up with the latest enterprise cloud news and insights. Sign up for the weekly Enterprise Cloud News newsletter.
---
The onboard deep learning framework is MXNet, but developers can also use other frameworks, such as TensorFlow and Caffe2, according to a blog post by AWS chief evangelist Jeff Barr.
DeepLens includes a 4-megapixel camera that can capture 1080P video, with a 2D microphone array, Intel Atom processor for 100 GFLOPS of compute power, able to run tens of frames of incoming video through on-board deep learning models every second, Barr says. For connectivity, DeepLens has dual-band WiFi, USB and micro HDMI ports. It has 8GB memory for pre-trained models and code. For software, DeepLens runs Ubuntu 16.04 Linux, and is preloaded with the Greengrass Core, which includes Lambda runtime and message manager.
Google (Nasdaq: GOOG) previously introduced Clips, an AI-enabled video camera designed for consumers rather than developers. Clips captures everything, then uses AI to decide what to keep, by identifying images of interest, such as those containing the faces of people you know.
Amazon introduced a programmable version of its Dash button in May. The Dash button is a tiny device that consumers can stick up around the house to press when they want to order more laundry detergent or toilet paper. The Limited Release Programmable Dash Button is, like the name says, a programmable version of the Dash button. Like DeepLens, the programmable Dash button is essentially an educational toy to help developers familiarize themselves with emerging technology -- the Internet of Things in the case of the Dash button.
DeepLens is available t0 pre-order now, and scheduled to ship next year.
Related posts:
— Mitch Wagner




Editor, Enterprise Cloud News