AI Is Coming for Highly Skilled Jobs, Too

Comment (14)
You studied for hours at the library, making sacrifices to earn your advanced degree to become a doctor, lawyer or skilled IT professional. After all that, meet your replacement: artificial intelligence.
A Gartner report making the rounds this week found AI is not only able to replace low-skill or repetitive positions, but highly trained professions as well, including IT, medicine and law. By 2022, the study found smart machines, AI and robots could turn these careers into what the survey called "low-cost utilities."
"AI's effects on different industries will force the enterprise to adjust its business strategy. Many competitive, high-margin industries will become more like utilities as AI turns complex work into a metered service that the enterprise pays for, like electricity," Stephen Prentice, vice president and Gartner Fellow, wrote in the report "Prepare for When AI Turns Skilled Practices Into Utilities."
The debate about whether robots and AI will take jobs away from people, or actually create more opportunities through the technology, is one that has raged for a time, but has picked up steam more over the last few months as companies keep adding elements of AI and machine learning to their offerings. (See Will AI Create More Jobs Than It Destroys?)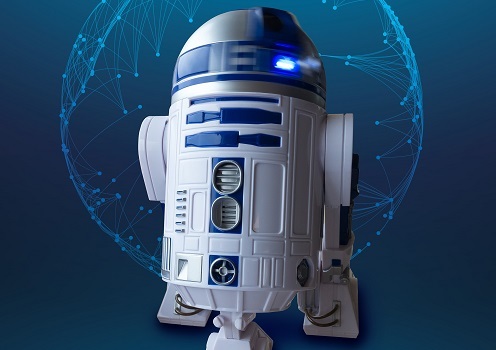 To counter the narrative that we're all replaceable by a machine, as well as way to score political points as being job creators, companies have touted their plans to generate real jobs, for real people, including Infosys, best known for outsourcing. (See Cloud Drives Infosys Plan to Bring 10K Jobs To US.)
The Gartner report tries to split the difference, emphasizing that while AI can take jobs, it can also create more as well. It urges CIOs to create a five-year plan that mixes AI with jobs that people can still do and contribute to the business.
Yet AI does offer the lure of cost cutting at some level.
For instance, when an enterprises hires a lawyer for its legal department, that person expects a salary and benefits that reflect his or her schooling and continued compensation for working in a highly skilled field that's an essential part of the company.
However, if AI is involved, and can make legal decisions based on its learning of the law, enterprises might have a large up-front cost in buying these machines, but they can then continue to add systems and save in the long-run since there are no salary raises or other compensation once the smart machine has been programmed. (See AI, Cognitive Spending Soaring to $12.5B in 2017.)
The law department is just one part of the enterprise that could feel the AI effect. In the IT department, Gartner finds that machines could replace system administration, help desk, project management and application support.
---
M&A activity is turning the cloud upside down. Find out what you need to know in our special report: Mergers, Acquisitions & IPOs are Rocking the Cloud.
---
The report also notes the financial industry is ripe for AI, with loan origination and insurance claims adjustment primed for automation.
So as not to make people stare at their diplomas and despair, Prentice notes that humans are still good at many things, including problem solving, while AI is best at taking over repetitive jobs that are narrow in scope.
"AI is most successful in addressing problems that are reasonably well-defined and narrow in scope, whereas humans excel at defining problems that need to be solved and at solving complex problems," Prentice writes. "They bring a wide range of knowledge and skill to bear and can work through problems in various ways. They can collaborate with one another, and when situations change significantly, humans can adjust."
Related posts:
— Scott Ferguson, Editor, Enterprise Cloud News. Follow him on Twitter @sferguson_LR.