Enterprise are looking to increase their spending on artificial intelligence and cognitive computing systems by nearly 60% in 2017, as companies see these technologies as the next great wave in innovation, according to new numbers from IDC.
By the end of 2017, businesses will have spent $12.5 billion on AI and cognitive systems, according to a recent report from IDC. This is a significant 59.3% increase from 2016 to 2017. During the next three years, as interest in these technologies grows, the market could see a compound annual growth (CAGR) rate of 54.4%, with revenues reaching about $46 billion by 2020.
The IDC report notes that AI and cognitive software are becoming key parts of enterprise infrastructures and businesses should start understanding, as well as begin investing, in these technologies. (See AI Jitters Kick Off 2017.)
The growing importance of AI and cognitive computing are also changing the types of cloud technologies companies are offering to customers. For example, Salesforce has started to blend its cloud and software-as-a-service (SaaS) with its Einstein AI in different offerings, including a recent update to its Financial Services Cloud. Additionally, Alibaba Cloud, the cloud arm of online retailer Alibaba, has announced it will add more AI and machine learning technology into its offerings.
The result is that cloud, AI and cognitive are laying the ground work for companies to fulfill their goal of a digital transformation.(See Digital Transformation: Why IT Culture Matters.)
"Intelligent applications based on cognitive computing, artificial intelligence, and deep learning are the next wave of technology transforming how consumers and enterprises work, learn, and play," David Schubmehl, IDC's research director for Cognitive Systems and Content Analytics, wrote in the report.
Most of the money this year will be spent on cognitive applications, which also include cognitive-enabled process and industry apps that can automatically learn, discover and make predictions. During the next several years, this one part of the market is expected to have a CAGR of nearly 70%.
Here's how IDC sees the revenue breakdown in the market:
Cognitive applications: $4.5 billion
Cognitive-related IT and businesses services: $3.5 billion
Cognitive and AI software platforms: $2.5 billion
Server and storage for cognitive and AI: $1.9 billion
The IDC report found that different businesses within the financial services market are leading the way with cognitive and AI adoption, mainly to develop new fraud and risk detection technologies.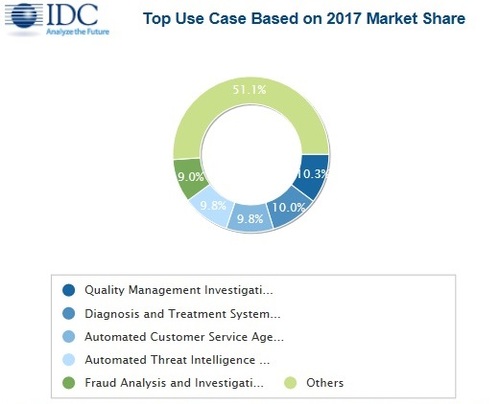 Manufacturing, retail and healthcare are also adopting AI and cognitive systems.
The US will remain the largest market for AI and cognitive in 2017, with revenues totaling $9.7 billion. That is followed by Europe, the Middle East and Africa, and then Asia-Pacific.
Related posts:
---
What are the hottest jobs in the cloud. Get our special report to find out:
Cloud Skills: What's Hot?
---
— Scott Ferguson, Editor, Enterprise Cloud News. Follow him on Twitter @sferguson_LR.